I've been talking a lot about engagement season lately, huh? I may have mentioned it before, but one of the reasons why I tend to be so celebratory of the holidays and engagement season is because I myself was engaged during the Holidays.
As I'm planning content and marketing for all of the newly engaged couples, I tend to look back on my own engagement for guidance. I wanted to share my experience with you all today, because even though it was 10 years ago, it's very likely that the process is still the same for a newly engaged couple. Yes, there are definitely more resources available to couples now, but the steps are going to be the same. So I want to review this wedding process to help you figure out where you belong within it.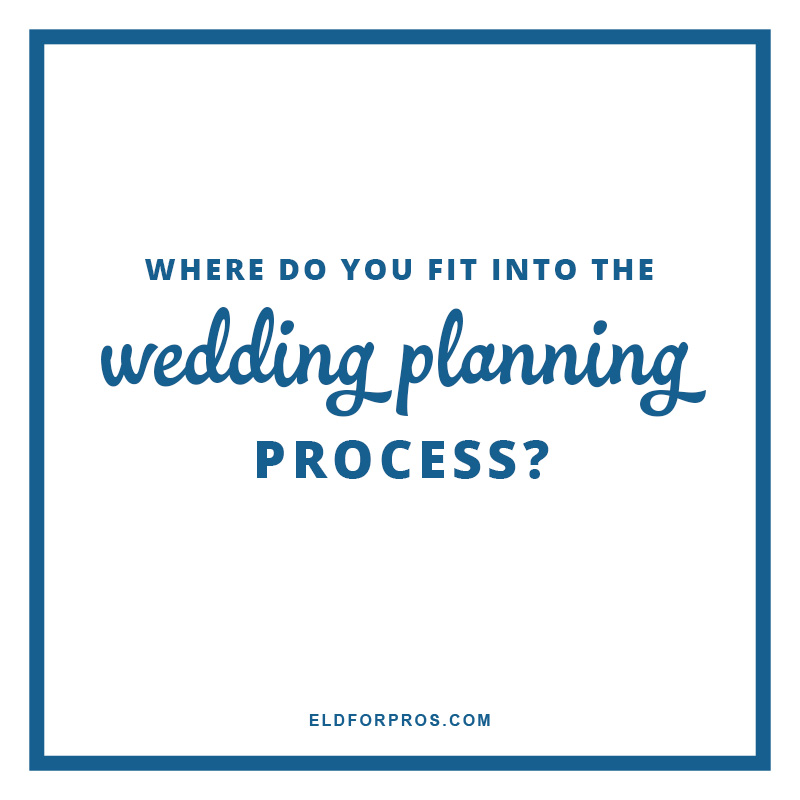 We were the typical young couple who had been together for quite some time… and you know, getting sick of people asking when we were going to get married. I knew that my now-husband already had the ring (spoiler alert: I kinda picked it out and he is the worst at surprises), it was just a matter of when it was going to happen! He finally asked on December 23rd, just before we left to go to our hometown for Holiday celebrations.
Having the holidays right around our engagement definitely helped us bask in that "newly engaged" glow for a few days. Mostly because we were with family, always having things to do, places to go, and people to see.
I do, however, distinctly remember sitting down at my parents' kitchen table to start talking about wedding planning. It was a few days after Christmas, and I had opened up a few websites, and was searching for wedding dresses (yes, before any budgets were set or anything was figured out).
The very first thing that we decided on was our wedding date. In our case, we had a few dates that we had to work around, so it helped us in choosing a date. If I recall correctly, we had two options, and decided on May 23rd of the following year because our dating anniversary was the 23rd, as was the date he proposed. What can I say- I like to find sentimental value in things!
Once we established dates, we started touring venues. Being that we were getting married in our small town, we didn't have many options available to us. I knew where I did NOT want to get married, so that helped narrow things down even more. I believe we toured 3 venues, and if I recall correctly (come on now, it was 10 years ago), it was all the same weekend.
Our incorrect piece of this planning puzzle was that we didn't really set our budget until after getting estimates from our venue. We had a good idea of number of guests (aka, way too many), and so that at least helped. So once we knew what the venue (food and beverage as well) was going to run, we were then able to set a budget. A little backwards now that I know, but hey, I had NO CLUE- and remember, most couples do not know any better either!
Once we had the date and venue, I started looking for photographers and inquiring, and that was a bit further down the road- February/March if I recall correctly. This process was a little more spread out over a few weeks, during which I went and met with a few photographers (I was also traveling from where I lived to my hometown, so it was a little more difficult to set meetings). This was also a time where having more information and knowledge regarding what photographers truly do and the importance of their experience would have helped me a ton in making a (better) decision.
It was also around this time that I started to realize just how much time all this wedding stuff took, and I started looking into what wedding planners cost, and if I could have one. Spoiler alert: I got one, but she wasn't the greatest. Alas, she did help, so at least there's that.
So let's review what the steps of the start of my planning process looked like:
1. Wedding dresses
2. Wedding date
3. Wedding venue
4. Wedding budget
5. Photographer
6. Planner
On my end, as a publisher, I'm looking at my own planning process and creating my editorial calendar. As I'm doing so, I'm also keeping in mind the timing of when each "task" was happening, as well as the time required for each. (I.e., choosing a wedding date and setting a budget can all happen in a few hours)
On your end as a wedding professional, I want to encourage you to think about how and where YOU fit into that "planning process". And not only this, but what should you be doing now to set yourself up to get exposure and get in front of couples as they are doing research and starting in the journey of planning their wedding.
We're talking all about it in our FB group- come join us! And if you don't have my Engagement Season Prep Checklist yet, make sure you have it!!
The following two tabs change content below.
Lauren Grove is the editor and owner of Every Last Detail. A clueless bride-turned-wedding planner, Lauren uses her experiences and knowledge to educate and inspire brides all over the world.