Welcome to step #3 of the wedding planning series "First Things First": starting your guest list! [If you need to catch up, the full list of steps can be found here, and the first two steps here!] As you may have noticed, a lot of these steps go hand-in-hand, and could technically be taken care of in a day or a weekend. They're also all incredibly important steps, since you can't really get very far into your planning without knowing them! I like to refer to these steps as "decisions". We started off with setting your budget, moved on to wedding date options, and that leads to the next thing you need to decide on- your guest list!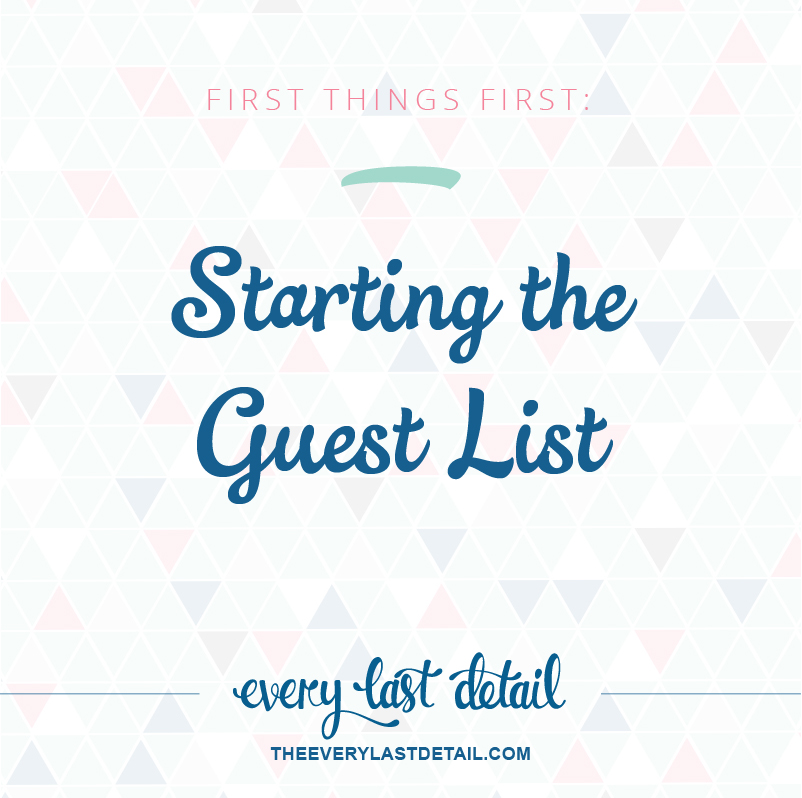 A guest list is like the framework of your whole wedding. So many things depend on your guest count- your venue's capacity, how much you spend on food, what kind of meals you can serve, how many tables you'll have, how many centerpieces you'll need… I can keep going if you want me to. ;) Just those few things I mentioned should make it pretty clear that your guest count pretty much equals your wedding. I tell people this ALL the time- the more guests you have, the more money you have to spend. It's not a question of whether or not you're DIYing to save money or going with the cheapest vendors you can find… the fact of the matter is that a guest = money. (Which is why it's such a big deal when people RSVP and don't show up, or just don't RSVP to a wedding at all!)
Photo by BRAUNphotography
So how do you even go about starting your guest list? Here are a few suggestions to help you get started…
Set a ballpark maximum guest count. Now, I say "ballpark", because if you don't yet have your venue secured, it's hard to set numbers in stone. However, it's a good idea to have a maximum guest count in mind so you have a goal to work towards- and also a place to stop. When you're setting your "maximum", chance are good that you'll come across you "ideal" guest count too. Your ideal guest count is the number for when you say, "Well, we're inviting 150, but we're hoping for 125." I can't tell you how many times I've heard that. I think sometimes it's not even quite decided on- it just happens. But your maximum guest count is the count that you really and truly need for everything. So just stick to that for the most part.
Create an A List & a B List. 
A List: Your A List should have all of the people who you can't imagine your wedding without. Your best friends, family members, close family friends- the people who are closest to you. And yes, sometimes there's a friend of a parent or a coworker in there too, depending on their importance. If you've decided on a maximum number already, the number of guests on your A List should just about or completely fill this maximum.
B List: Your B List should be considered the "backup" list. Backup as in… if you someone on your A List can't make it to the wedding, someone on the B List can take their place. You'll feel kind of bad about it at first, but once you hit that maximum on your A List, it'll start to get a lot easier to move people to the B List! You may even find yourself reevaluating some guests' "positions" on the two lists. You could become closer with some friends, grow apart from others, or even make new ones. (I know that since I had a long engagement, I ended up removing several people from my guest list all together because I hadn't seen or heard from them in a while.)
Who Makes The Cut. It might help you decide on who "makes the cut" if you think of your guest list as being in "order" based on importance.
Family. You know who this is. The family members that you see on a regular basis (of course), but also those that you see for holidays. Make sure you're including family members from your side of the family and your fiance's side of the family. It's a good idea to consult with your parents on this. But honestly, the 3rd cousins that you haven't seen for 20 years… not really necessary for THIS portion of the list.
Close Friends. The friends that you see and/or talk to on a very regular basis. Most likely a part of your bridal party. Close family friends would be in this category too- you know, like the "uncle" who is really just your dad's best friend. 

Other Family. So "other family" doesn't quite have as large as a priority as your general family. These are those cousins and family members that live across the country that you haven't seen in ages. Sometimes, depending on the family, you're obligated to invite them even though you know they're not going to come. You know how that goes.
Friends. These friends aren't as close as your "close friends", but you still see and/or talk to them enough that they know you're getting married. Remember that when it comes to inviting friends, you want people who mean something to you to be at your wedding. You don't need to go inviting everyone from your spinning class because you see them multiple times per week (full disclosure: this thought did cross my mind when I was creating my guest list).
Coworkers. I feel like coworkers can sometimes be more difficult than family members when it comes to weddings! Of course this definitely depends on your own situation- some people are very close with a coworker or two. Some people just work with them. Often times, if you work in a smaller office, it's common to invite the whole office and they'll just go to the wedding all together. If you work in a large company though, I think it's safe to say that you don't have to invite everyone. ;)
*A note on the guest list: this is most likely going to be a work in progress for a little while. Don't expect to sit down for an hour and finish it right away. Since the guest list may include other people's input, it could take you a little while to get it totally set. And even then, as you progress in your planning and start getting RSVPs, it will of course alter then too. 
Photo via It's A Shore Thing
And now for a few other excellent tips from some talented Every Last Vendor members…
"Get your family involved right away. Ask both sets of parents about who they feel they need to have at the event. Are your(or his) parents contributing to the cost of your event? Then they should be able to invite some of their friends as well. If they are not, and you and your fiance are covering the cost, then you should get more of a final say on who is invited. Always remember that there may be people that you have to invite, but you know will not come. And if you are having a destination wedding, on average, 20% will not come!" – Jamie of Cape Cod Celebrations
"Don't be afraid to have a back-up list of people. If there are some friends you would like to come but you have a limited capacity with your budget or venue, you can always invite a few more people after you get some people declining." – Alex of Imprint Cinema
"Figure out if having every person you love & care about at your wedding is the most important thing to you or having only your closest friends & family and a "bigger wedding". If having more people is more important, you might have to have less elegant chairs or chicken instead of Filet Mignon to have all the people but it can happen. You might have to do a quick swap from the ceremony to the reception to not have to pay for chairs twice. You might have to have a dry wedding or a cash bar. If these are things you aren't willing to sacrifice to have certain people at your wedding, start cutting down the guest list to make sure you have your must haves and only the people you are willing to sacrifice these things for are there!" – Heather of Meet The Burks 
"It's important to respect your parents, but also reign them in so they dont go overboard with the inviting. The modern day couple now pays for their own wedding versus the day when only parents would pay. While that tradition still exists, it's more common now for parents to just contribute to the wedding. With this format, the bride and groom should be able to have more control over the guest list. It might be helpful to provide each of your families with a number of how many guests they can invite (give or take a few). That way, the parents get full control over who they invite, but it is within the requirements of what the couple needs (for budgetary reasons and accommodating venues)." – Roey of Roey Mizrahi Events
"If you have already chosen a venue, think about the max that venue can hold and if you really want to max it out or leave a little breathing room. This is especially important in smaller venues or outdoor venues where the rain plan in to go inside. We have been inside a venue that maxes at 120 with all 120 people inside because of rain and it was tough to do our job at times because it was so over cramped. So keep in mind how many people you want to invite based off of the venue space too." – Samm of Imprint Cinema
—————————————————————————-
I hope you all are poised and prepared to start your guest lists now! I would love to hear from you- those who are newly engaged, have you started your guest list yet? And for those of you who have already made your guest lists, do you have any tips to share with other brides?
The following two tabs change content below.
Lauren Grove is the editor and owner of Every Last Detail. A clueless bride-turned-wedding planner, Lauren uses her experiences and knowledge to educate and inspire brides all over the world.