Pink and gray is one of my favorite color combinations for weddings! Add in some vintage elements and photography from Rebekah Hoyt, and we have ourselves an absolutely gorgeous wedding!
From the bride, Kristina:
What (or who) helped you most in your planning process and/or on your wedding day?
 The biggest help in the planning process was, without a doubt, my fiance. I know many guys aren't "into" planning a wedding, but from the very beginning we saw it as a project for both of us to enjoy working on together. He made calls to vendors, helped me (okay, watched me) craft, and even poked around on Pinterest from time to time. It helped to have him so involved because since we were on the same page, we could interchangeably attend meetings or answer someone's questions. I think we both enjoyed the wedding so much more, since we truly saw elements of both of us in it!
As far as the wedding day, I cannot stress enough how grateful we were to have a day-of coordinator. It ended up raining on our wedding day, which wouldn't have been a big deal except we had planned on an outdoor garden ceremony and an outdoor cocktail hour. However, I never had to worry about a thing. Jacklyn, our wedding coordinator, constantly talked options with our DJ, pastor, and venue. At one point, I believe she was toweling off seats herself! We ended up being able to have our ceremony during a sunny break in the storm, which wouldn't have been possible without the flawless work of our coordinator. In the pictures, you have NO idea that it had been pouring moments earlier!
What was the most important thing to you when deciding who to work with for your wedding?
When possible, we wanted to include friends and loved ones. Our incredibly talented photographer, Rebekah Hoyt, is a friend from college. We knew from the moment we got engaged that she was key to our day. My mom worked incredibly hard on the details: our signage, our wedding programs, and the linens for the day. Even our pastor was someone I have known since I was 16; my husband and I decided that were he not been available to do our wedding that day, we would change the date!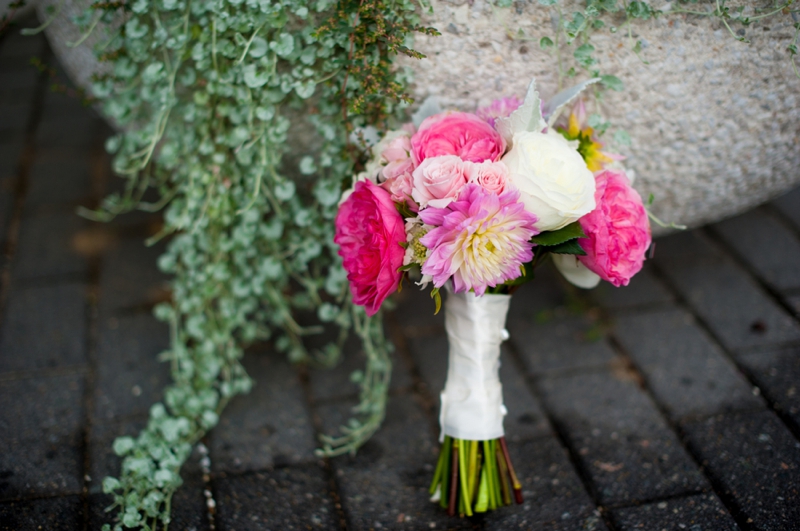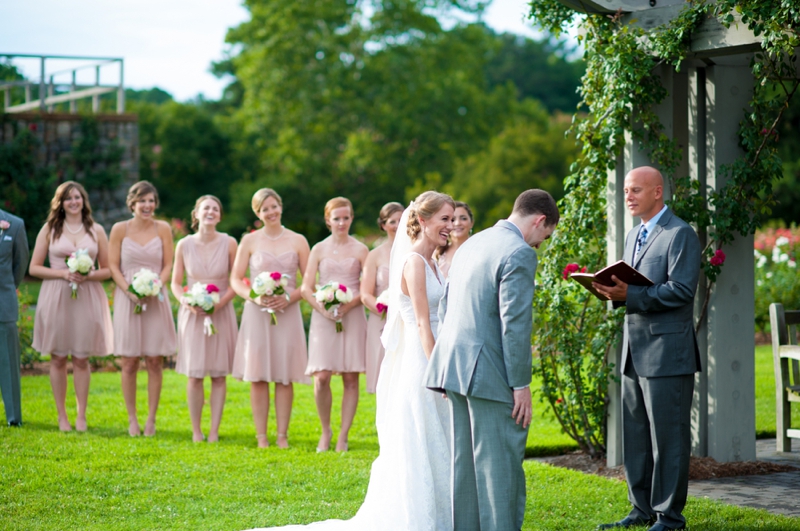 What was your favorite thing about your wedding?
If you mean a favorite detail, we would both say that it was our escort cards. We spent the weeks leading up to the wedding writing small letters to every individual coming to our wedding. There is so much you want to say to people on your wedding day, and so many of those individuals had made us the man and woman we are at this moment; the cards were a small attempt at beginning to thank them for their role in our lives.
 However, if you mean a favorite moment, I know it was probably the last few minutes. We had a great "last song" ("One More Time") that had everyone on the dance floor, and I remember looking around and seeing everyone I cared about in one spot. It was an upbeat, jumpy song, so I was literally jumping up and down thinking "I am so blessed. This is too good." When it ended, we were crushed in this insane group hug that more or less reflected the tone of the night. I'll never forget it.
What was your inspiration for your wedding details and/or design?  
I loved the vintage look and feel that we saw with some weddings on blogs and Pinterest, and we had fun incorporating "old" things into our wedding. We spent a year hunting down 100+ pieces of vintage china to serve dinner on, we picked up old furniture from antique stores, and even the "happy tears" handkerchiefs were a gift from an elderly woman who wanted her collection to live on in a "special" way.
What is your best piece of advice for other brides?
It sounds so trite, but seriously, my best advice is not to stress. A wedding should not be a stressful thing – there are enough of those in life. This is your one chance to plan a party with people you love. No one is judging said party or the details, nor are they annoyed that you didn't make it look like Pinterest. You only get to do it once, so enjoy the precious decisions and take the day for what it is. At the end of it, you end up with your best friend, and I think that's a pretty neat trade-off.
Oh my goodness, I love Kristina's advice! It's so true- with all of the exposure and ideas that are out there now, you could feel "pressure" to live up to certain expectations. Don't! It's YOUR wedding, and if it reflects YOU, you have nothing to worry about. :)
Kristina did get a lot of her inspiration from Pinterest… are any of you planning on using ideas you saw on Pinterest for your own wedding? What are they?
Vendors who made it all happen…
The following two tabs change content below.
Lauren Grove is the editor and owner of Every Last Detail. A clueless bride-turned-wedding planner, Lauren uses her experiences and knowledge to educate and inspire brides all over the world.