There are SO many wonderfully awesome wedding pros out there. Having lots of great options is an amazing thing, but unfortunately it also makes things *that* much more difficult when you're researching, meeting, and choosing your wedding vendors. I've had a few brides ask me for advice in searching for and choosing their vendors, and so today I wanted to go over a few tidbits that might help! But first, a little background…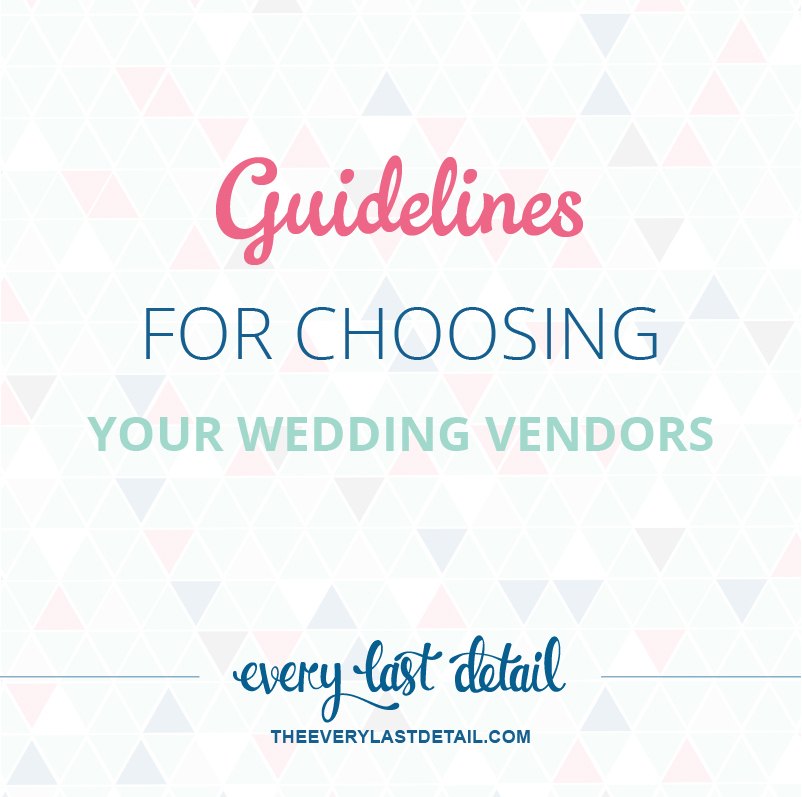 [I realize that many of you don't know about my own wedding planning experience. Honestly, I've started writing about it and it turned out to be a novel-sized post, so I figured I would share a few tidbits here and there. Choosing my vendors was so very important to me. But when it came down to finding them and narrowing the selections down, it became a daunting feat. At first it was fun to find different vendors- but I also didn't have a huge selection because I was only looking for those listed in my small town (Mistake #1).  And then it was always tough to know whether or not they would be in my budget, and of course if I would like them. I researched and researched, but there were just SO many options out there! (Mind you, blogs were just coming into the wedding scene, and the only vendor directory that I had to turn to was a big box site.) I didn't have any friends who had been married recently to ask for recommendations about what they thought of their vendors, and so I was completely and utterly in the dark. When I did go to meetings with potential vendors, I pretty much liked them all- I didn't know what questions to ask and how to "interview" them per se. In the end, price ended up winning- which is not what should've happened.]
Photo by Kismis Ink Photography
Alright, so now that you know a little bit about my background in being awful at choosing vendors for my own wedding, it's time for me to help you NOT do what I did!
In my time working in the industry and helping brides find vendors, I've developed some guidelines. These guidelines are also what I base my approvals for The V List on [Shameless plug: All of the vendors in The V List have been verified and vetted by ME!]. Below, I've also included a few questions that you can ask vendors when you're meeting with them. I'm trying to keep this as GENERAL as possible to cover all of the different types of vendors, but of course there are lots of specific things to look for for different types of vendors too!
QUALITY: We hear a lot about quality, but how exactly do you measure it? It depends on what quality means for YOU, so start by defining that. A good way to help you "define" your version of quality is to think about a restaurant/store/brand- what keeps you going back there or loyal? For me, quality is customer service. I love working with people who make me feel like *I* matter, even though they have tons of other clients/customers. Quality can also be viewed in terms of experience in two different ways. It can be the vendor's actual experience in performing their service, and also your own experience as a their client. Both things need to be known and considered.
Question to ask: What is your typical process when working with couples?
PERSONALITY: Personality is HUGE when choosing your vendors. You want to get along well with ALL of your vendors, which is why it's great to meet them all in person. If you can't meet them in person, Skype is a wonderful thing! :) Some vendors you'll see on your wedding day, and some you won't, but all in all, you'll be spending a good amount of time with them and/or communicating with them, so making sure that your personalities mesh well is an excellent idea. It'll make the millions of emails, phone calls, (giving them your money) and meetings a lot more enjoyable.
Question to ask: Besides insert their profession/service here, what do you like to do in your spare time?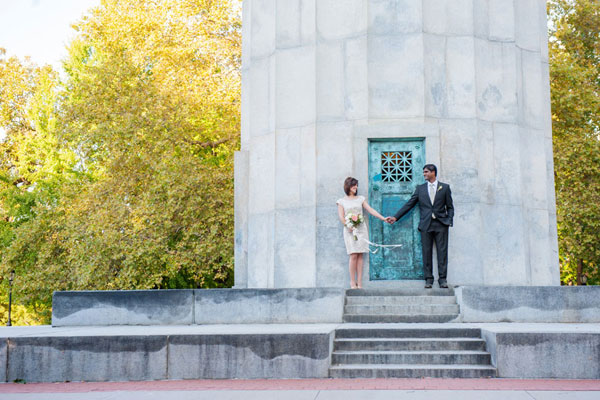 Image by Mikkel Paige Photography
STYLE: Of course I'm going to recommend that you KNOW what style of wedding you want to be having. It will definitely help you in choosing your vendors too, because many do have a certain style, which you can usually see through their branding on their websites and blogs. :) Keeping your own style in mind when looking for vendors will also help you narrow down the options.
Question to ask: What's your favorite wedding detail right now?
VALUE: So all of the things above are more personal and about finding the vendor who's the right for you. And once you've gone through all that, then the numbers game starts. However, value is different than price. Yes, you have the bottom line price and what you get for that. But when looking for value, you want to look at a few other things. Experience and quality are both a huge part of value. Experience and quality is why people with more experience charge more. That photographer who is SUCH a good price? Well you would be their 2nd wedding, that's why it's SUCH a great price. And that planner who is charging you almost nothing to coordinate their wedding? It's because they leave after your first dance, leaving you to fend for yourself for the rest of your reception. So the price isn't always the best value. Know the value of exactly what you're getting with the vendors that you consider.
Question to ask: If we hire you, what will we be getting, both literally and figuratively?
 —————————————————–
Just a little note: when you're in a consultation, it's best to let the wedding pro do their thing, and then they'll ask you if you have any questions. Then feel free to ask your questions and get a conversation going. It'll definitely help you decipher things a little better. :)
I know some of you who are newly engaged are on your way to going to consultations with potential vendors, so I hope this will help you all out!
The following two tabs change content below.
Lauren Grove is the editor and owner of Every Last Detail. A clueless bride-turned-wedding planner, Lauren uses her experiences and knowledge to educate and inspire brides all over the world.