My goodness do I have a treat for you all today! When this beauty of a wedding from Abbey Hepner Photography popped into my inbox, I fell absolutely head over heels IN LOVE! With bold hues of red, a 1960s-inspired "Mad Men" style, beautiful cotton-filled centerpieces, and homemade desserts, this Seattle wedding is absolutely amazing! It probably helps that the bride, Meaghan, is an event planner herself, so she knew exactly what she and her husband wanted! Meaghan was kind enough to share some of her insight with us today, so sit back and soak in all of this red and white beauty!
What (or who) helped you most in your planning process and/or on your wedding day?
I checked out event and wedding blogs and used Pinterest a ton to save ideas that fit us.  In terms of logistics, I treated our wedding much like an event for work, creating timelines and to do lists, as well as contact sheets, floorplans, etc – all of which were very much appreciated by the venue.  We couldn't have pulled off the wedding without the coordinating genius of my good friend Kiah, a fellow event production lady who pulled everything together day of.  After planning our wedding remotely from NYC, my piece of advice is to take your friends' and family's offers of help; they honestly do want to help you and are fantastic resources!
What was the most important thing to you when deciding who to work with for your wedding?
I used my resources in Seattle as much as possible.  Desserts were made by my family and friends; ceremonial arch was built by my dad and uncle from wood off of my grandmother's property; photobooth was designed and programmed by my friend; flowers were done by family friends; invitations were designed by my childhood friend.  The one person that was hired was my photographer, Abbey Hepner.  I interviewed 4 different photographers, and she was the one that I could speak freely with, joke with, and she really seemed to get my vision for our wedding.  She also used vintage film and polaroids, which was something I was very interested in using to capture our day.  You should be able to tell the vendor what you want – or, if you don't know exactly, you should feel confident to trust their opinion based on their portfolio and your interaction with them.
What was your inspiration for your wedding details and/or design?
Kevin and I wanted to evoke a 1960's feel – from attire to music to traditional comfort food.  We also wanted everyone to feel comfortable and at home, and actively involved with our wedding.  This is why I asked so many of our friends and family to contribute desserts for the dessert table, glassware for the centerpieces, and wedding photos for our wedding photo display.  In terms of print design, my childhood friend Kendall Winterer designed our invitations, menus and programs, which were heavily influenced by the fonts and design affects of 50s/60s ads.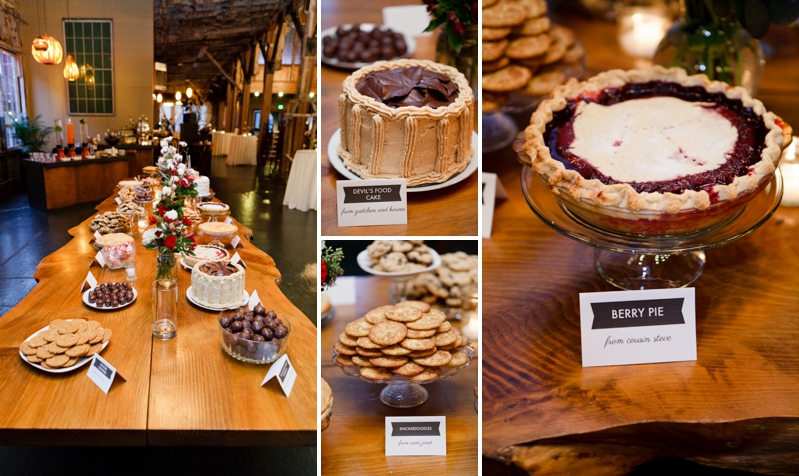 What was your favorite thing about your wedding?
Is it cliche to say the entire day?  First and foremost were Kevin's vows, which didn't leave a dry eye in the house.  Seeing Kevin on the rooftop for the first time was unforgettable as well.  Walking into our reception to see so many of our friends and family all under one roof was such a wonderful way to celebrate.  It probably is the only day in your life that so many people you love will be in one place at one time – so live it up!
And now for one of my favorite things about Abbey Hepner… a few of the Polaroids that she snaps throughout the wedding day!
What is your best piece of advice for other brides?
Know what you want, but be prepared for things to not go as planned.  Be flexible – it's going to be an amazing, fun, fantastic day no matter what!  Find someone you trust to take care of everything at the venue the day of – leave yourself the luxury of actually ENJOYING your wedding day and not working it.  Also, give your cell phone and all of your communication responsibilities to one of your bridesmaids.  It's hard but worth it!
Everything is amazing, right?! It all seems like such a fun, intimate wedding- I love being able to see that! And the 1960s-inspired style is absolutely fabulous- you can tell that it's a true testament to Meaghan and Kevin's own style!
Brides, I would love to hear from y'all- are any of you planning on having your wedding have a bit of a vintage vibe to it? 
Vendors who made it all happen…
The following two tabs change content below.
Lauren Grove is the editor and owner of Every Last Detail. A clueless bride-turned-wedding planner, Lauren uses her experiences and knowledge to educate and inspire brides all over the world.