Tucked away in the lush natural growth of the outdoor space at AMOA Laguna Gloria, Katie and Wade were wed in a beautiful garden ceremony. The couple's Texas garden wedding day was full of rich pink, purple, and red florals designed by Pop Fizz Floral, creating a striking pop of color against the otherwise neutral color palette among the greenery.
We love the bold colors and classic style that this couple chose to implement in their wedding design, and Eva Cranford Photography captured the details of their day so beautifully. With a little insight the bride shared with us, we hope you enjoy the bright and beautiful style of this colorful Texas wedding day.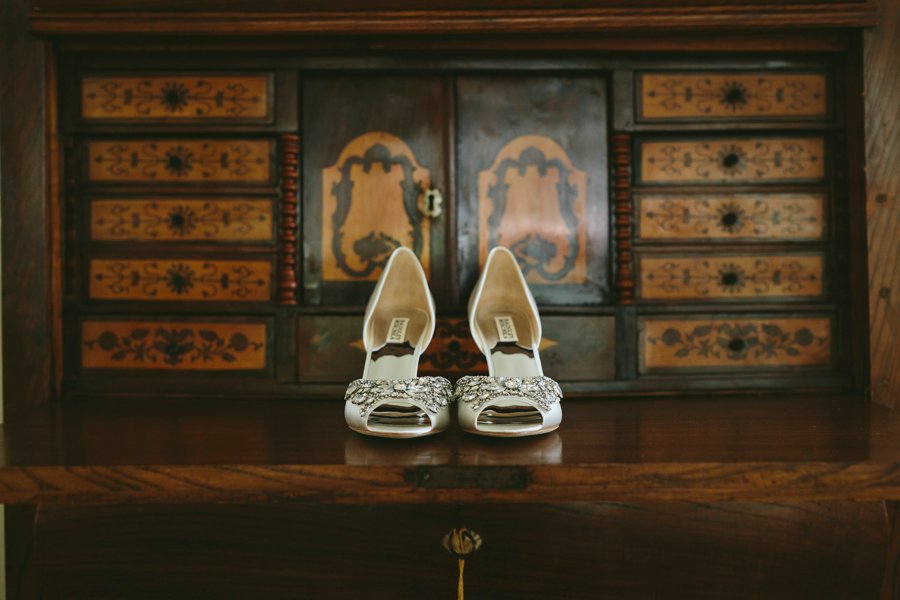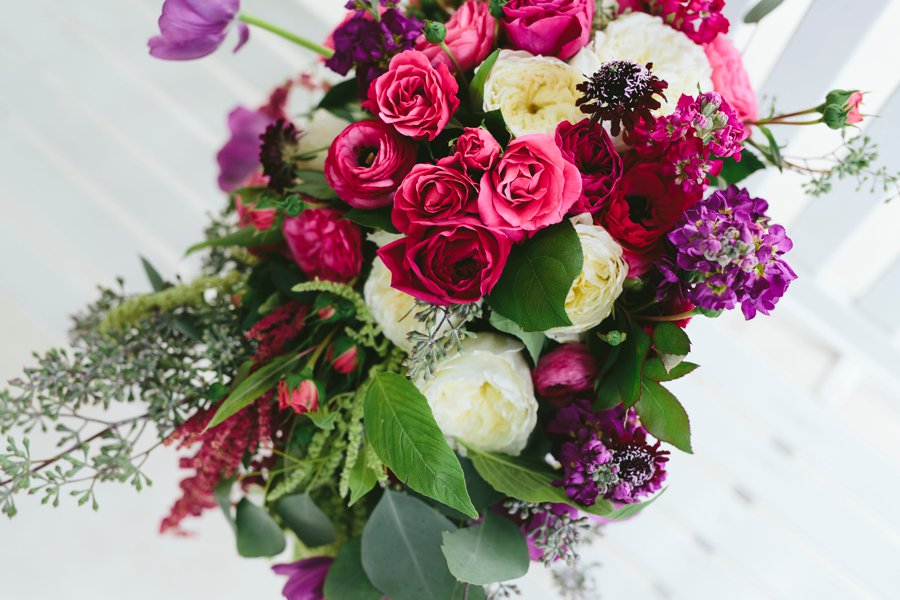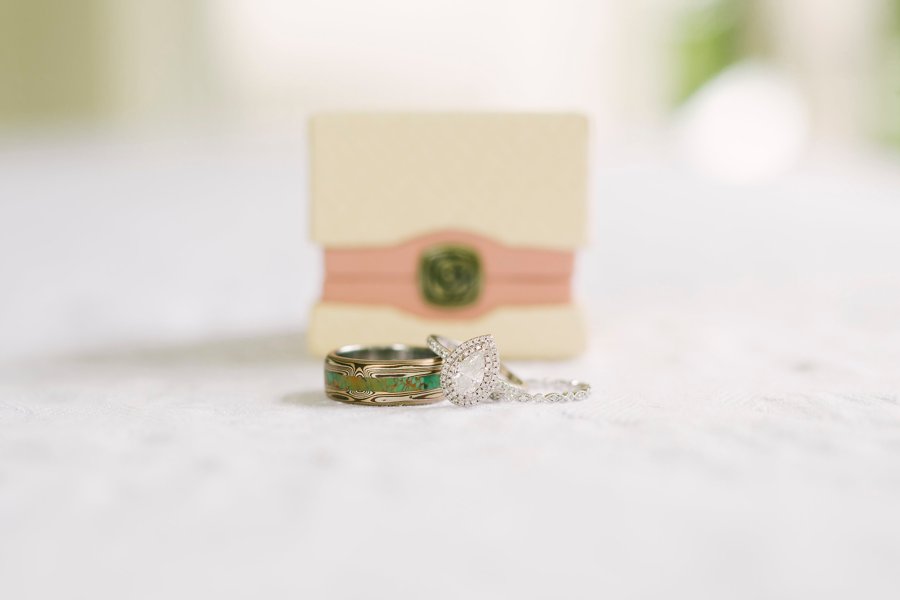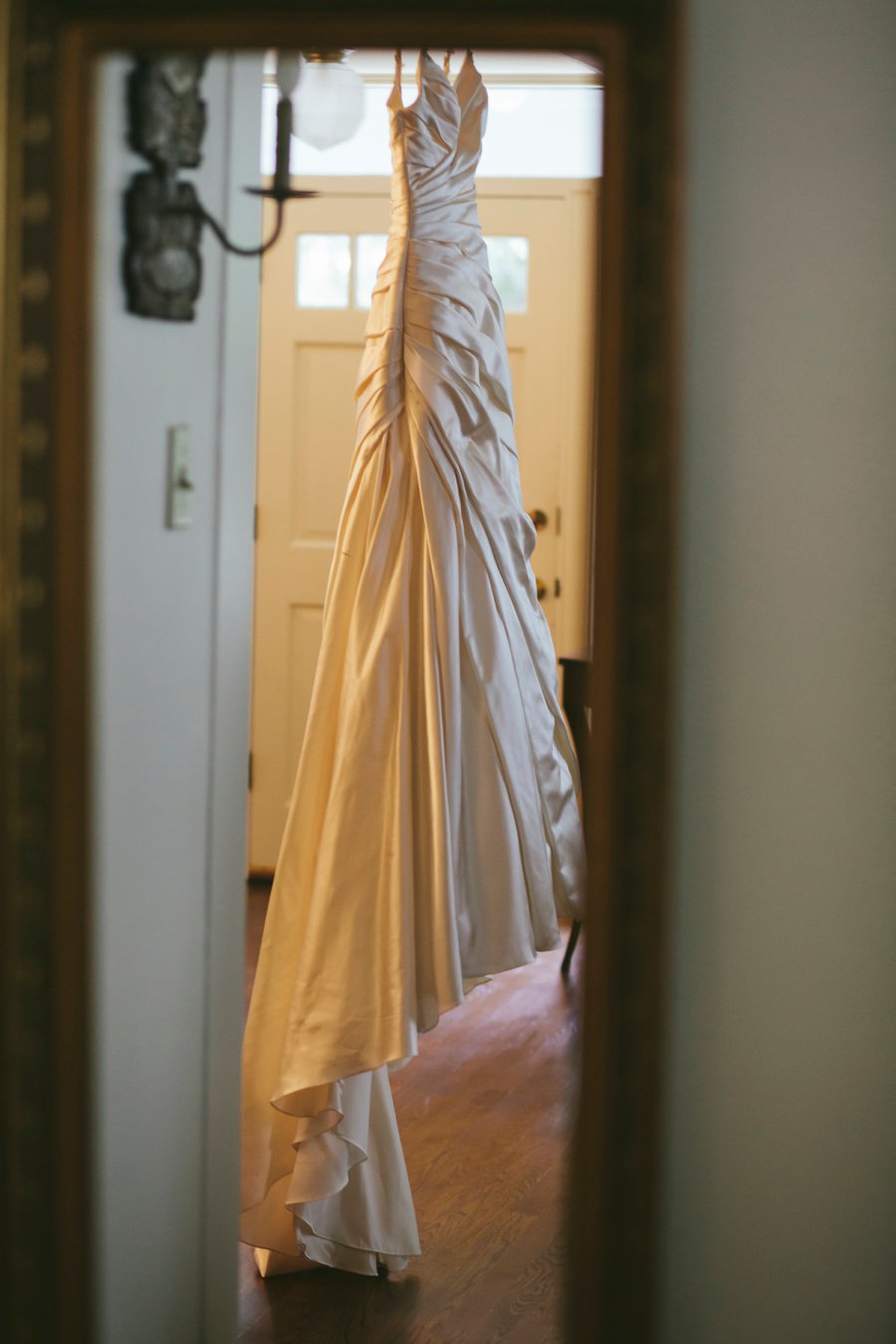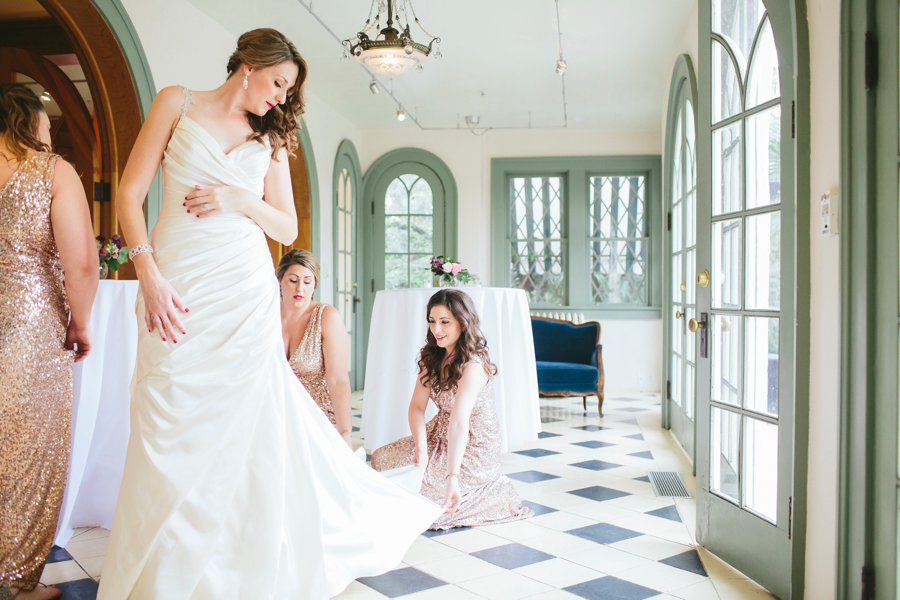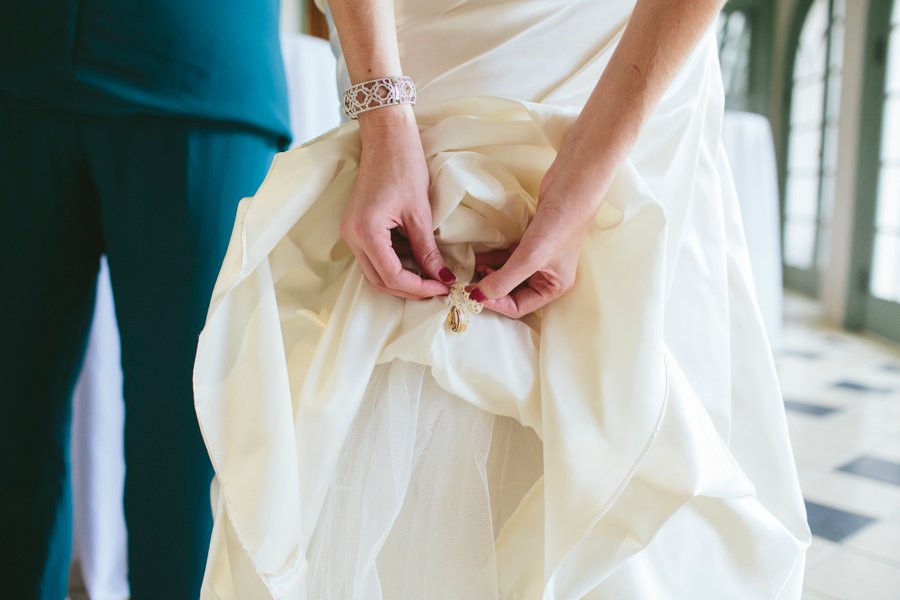 Tell us a little a bit about your wedding (your vision, color, style, and location choices).
We wanted to have a fun party where our family and friends could dance all night. We all love to dance! We wanted a venue in Austin (to make planning easier) and happened to find the perfect one not far from our home. We also wanted a more intimate night with those who we are really close to and where everyone could leave the kids at home and enjoy a romantic evening together in a beautiful setting. For almost all of our guests, that meant going out of town by coming to Austin. I love gold and gem tones and wanted both incorporated throughout the night. Also, I have always loved the movie, "The Secret Garden", and was so excited to find The Contemporary Austin at Laguna Gloria with all of it's overgrown vegetation and big beautiful trees. When my husband and I first started talking about where we wanted to get married we knew we wanted it to be outdoors somewhere near water, with big trees, and stonework. He loves the fall and we knew the weather would be good in October in Texas. (The proposal took place not far down the river from the wedding venue.)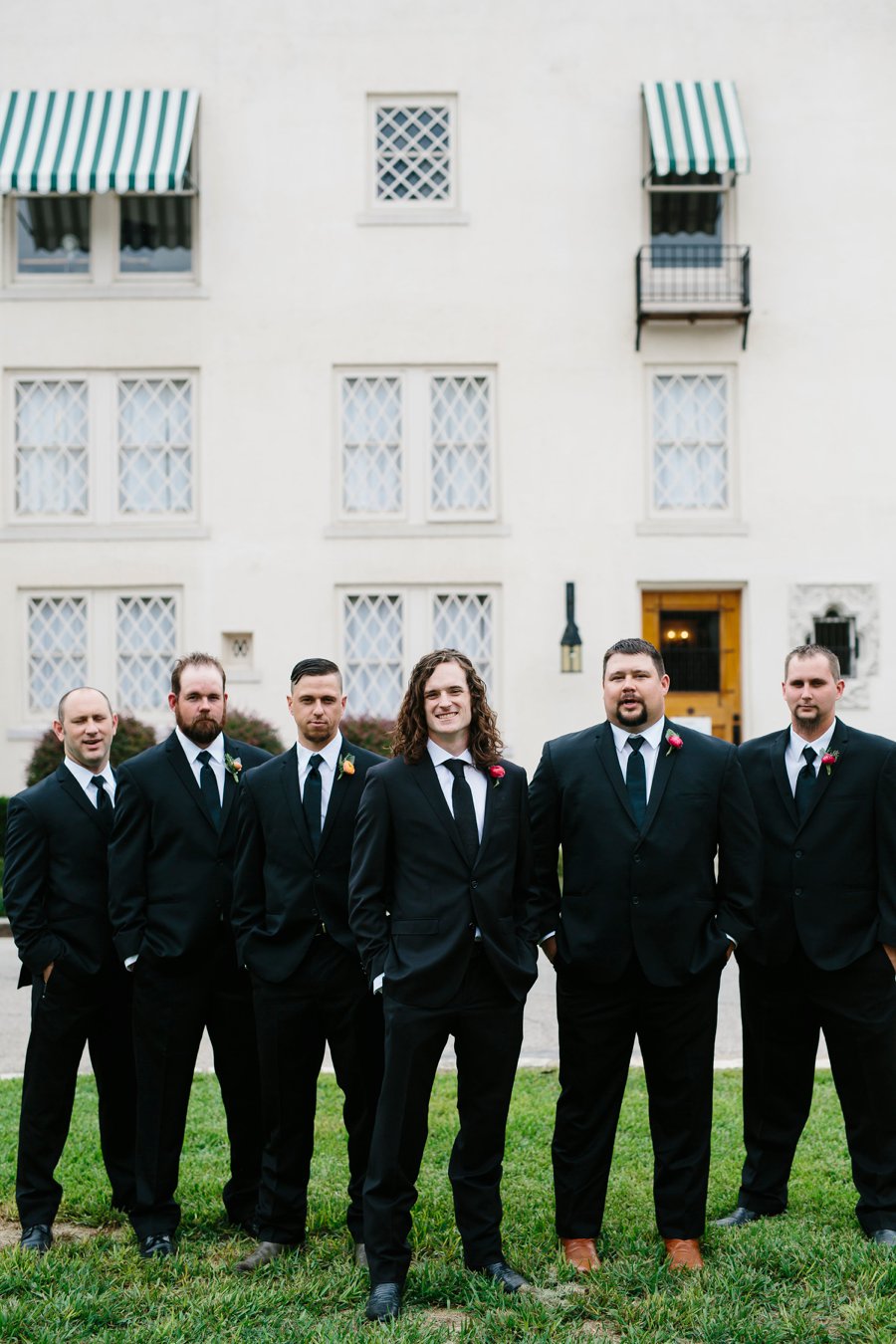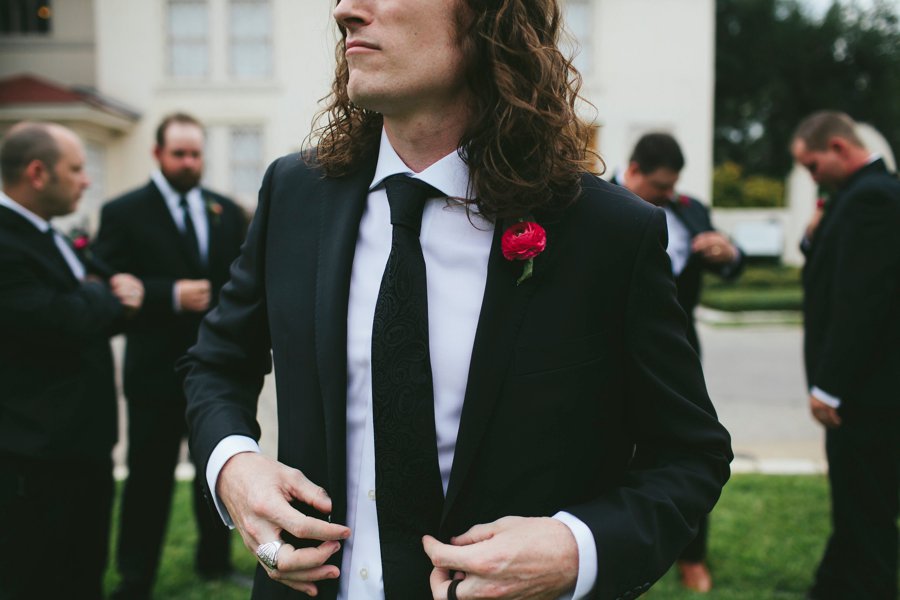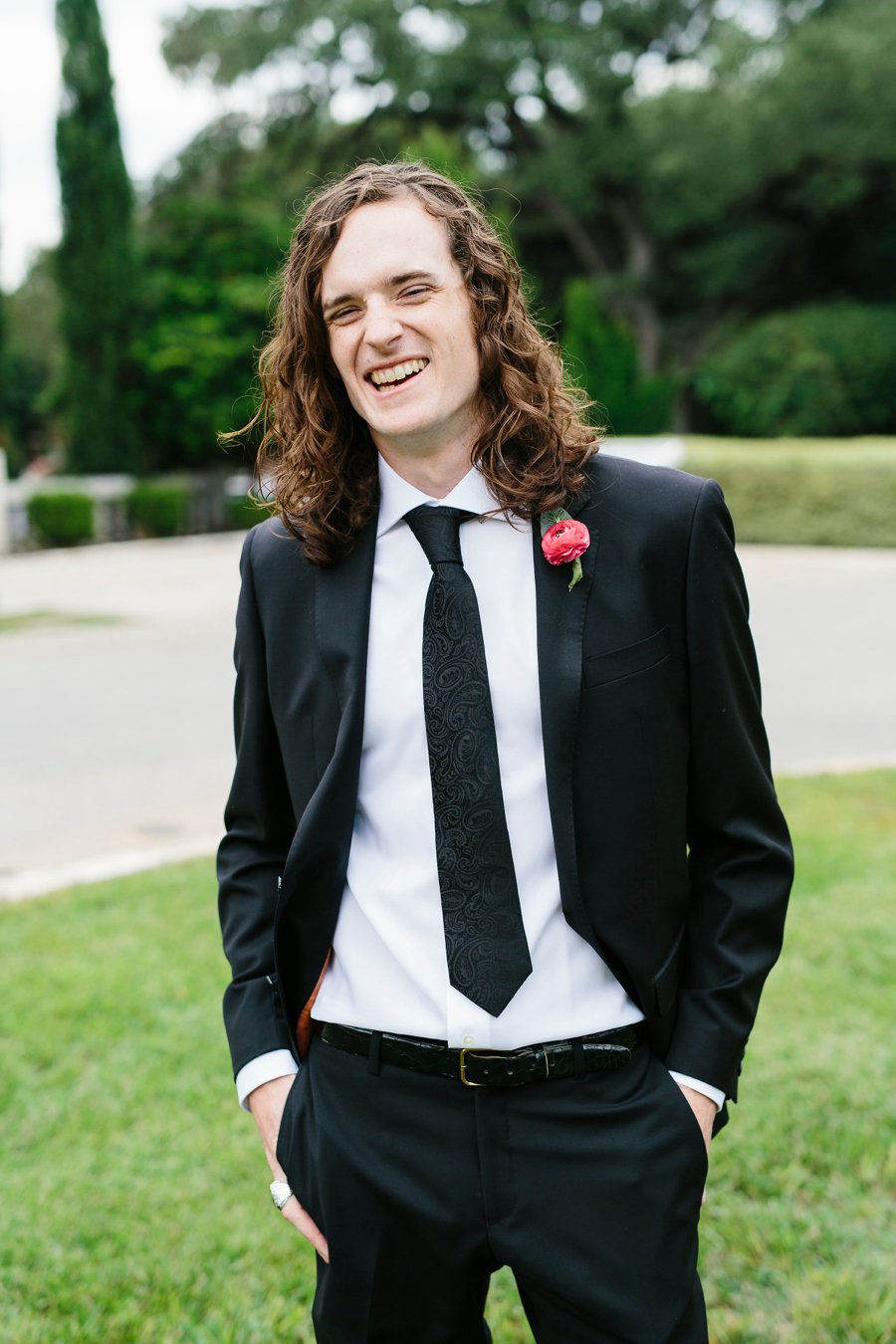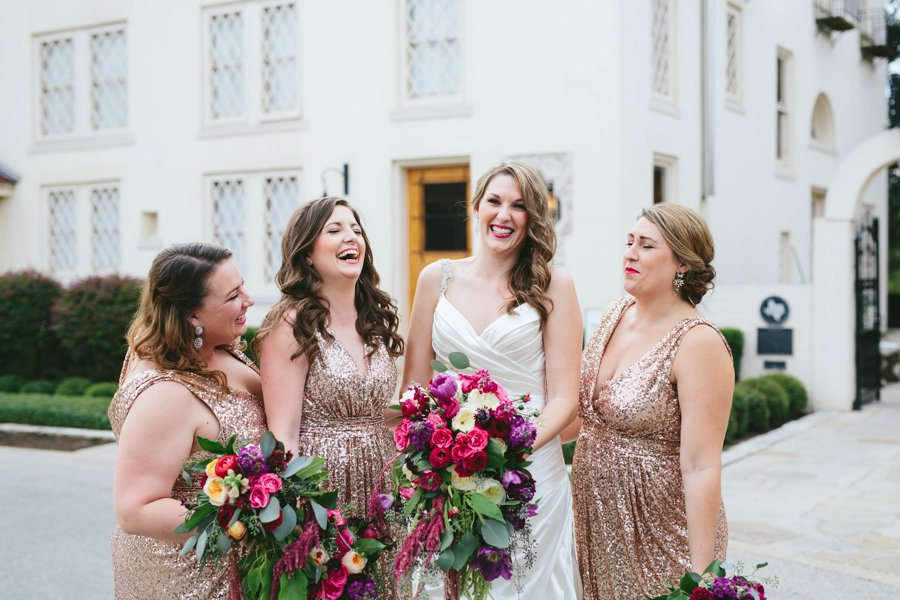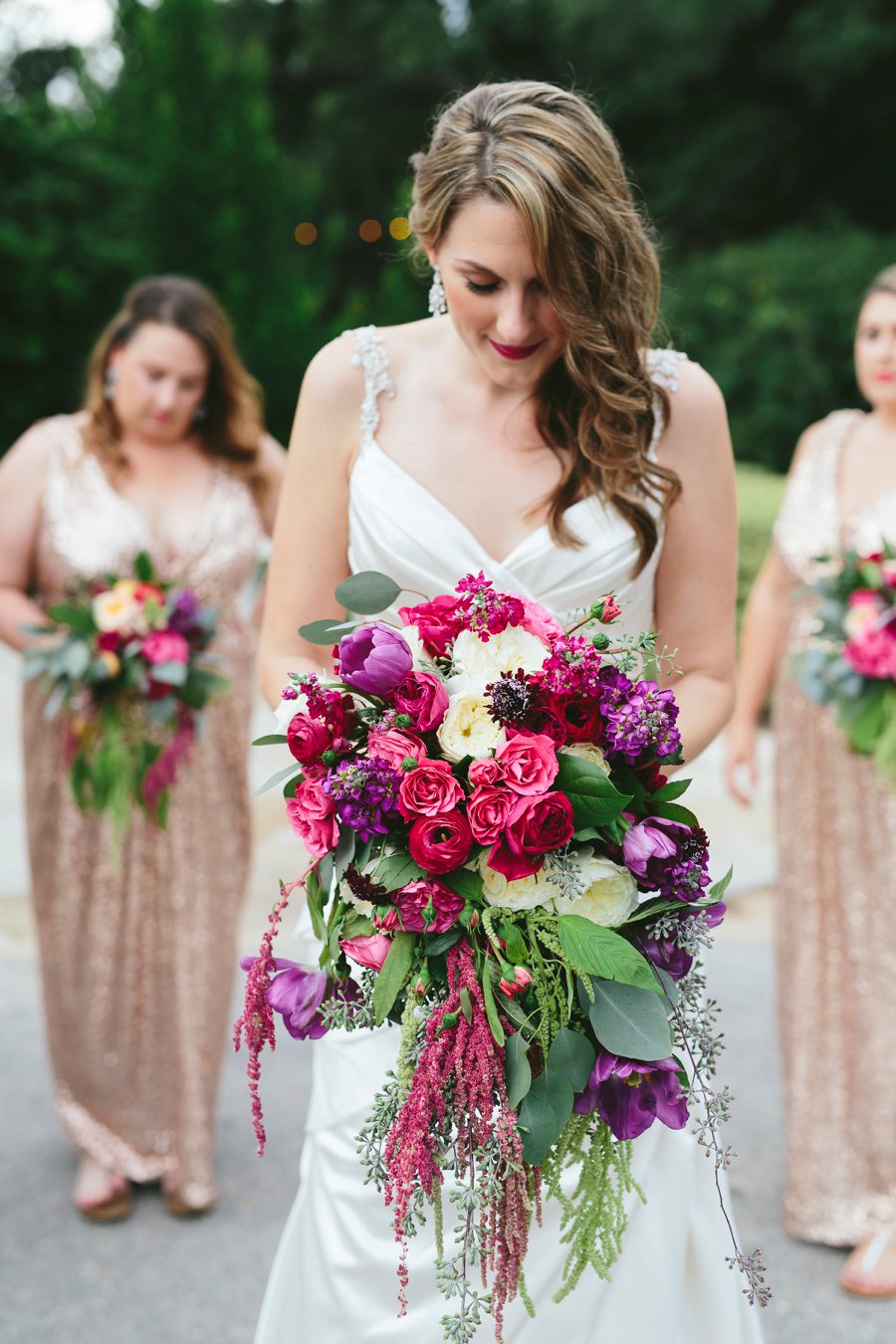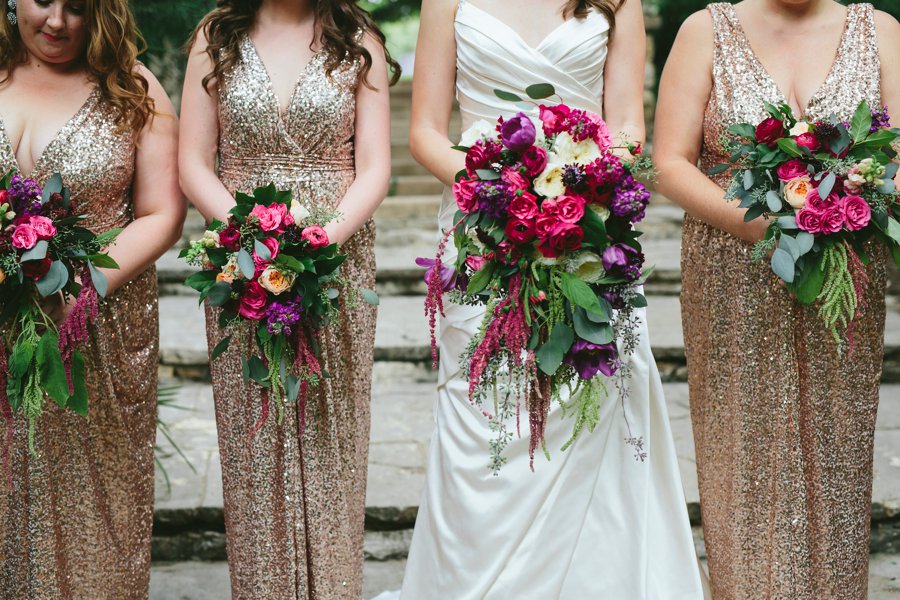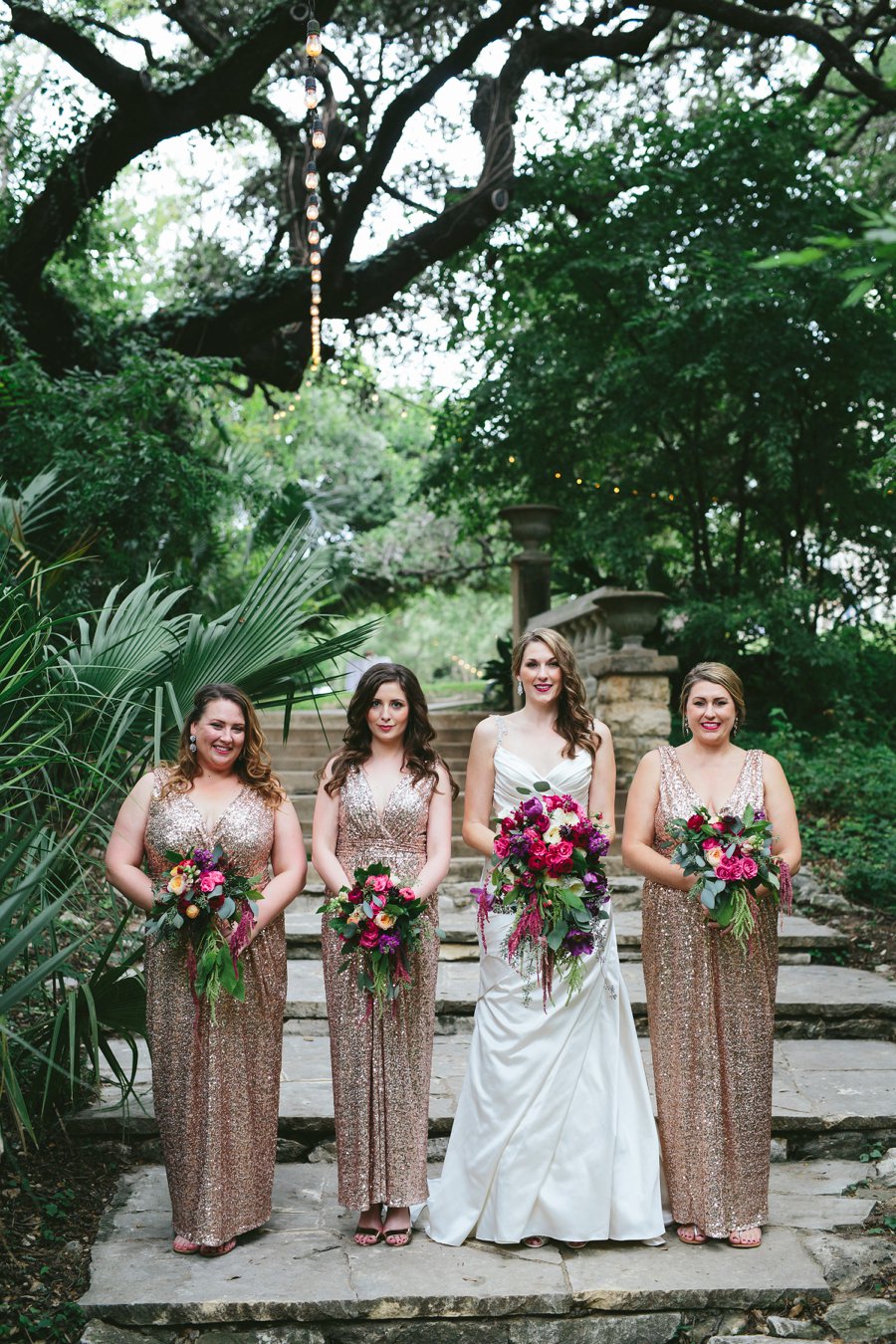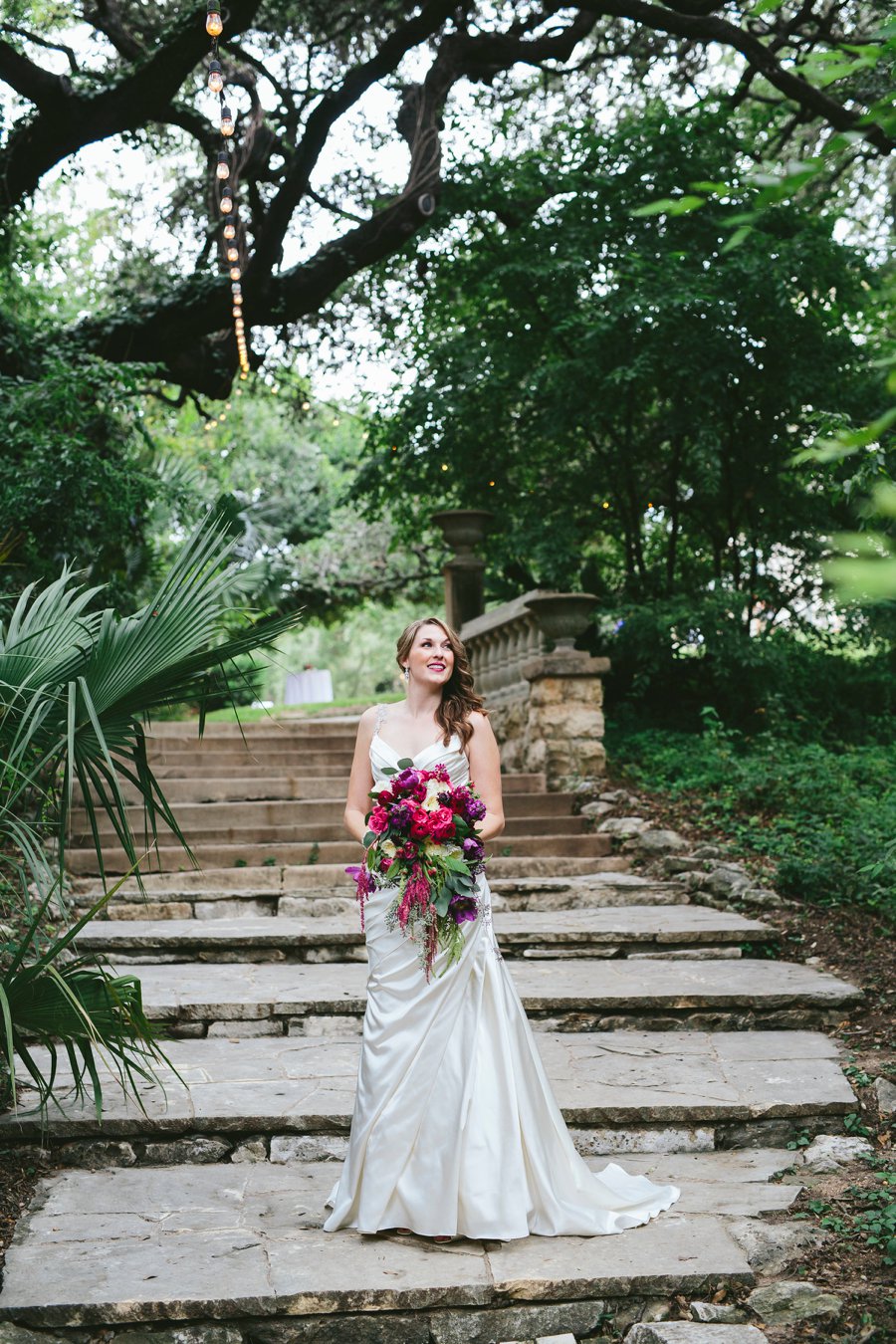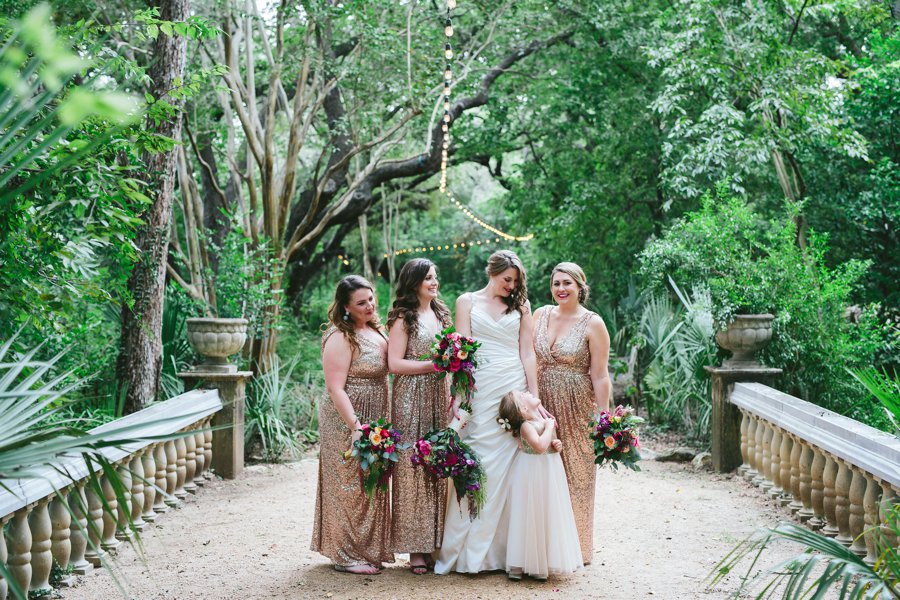 What was the most important to the two of you while planning? Was there anything that you chose to splurge on or skip?
We really wanted to make the day special for the two of us and celebrate our love with those who we are really close to. We had been together for a long time and everyone who was there had been anticipating the day just as much as the two of us had. Romance and intimacy were important to us and definitely the music selection and dancing. My husband picked almost all of the music. I wouldn't say that we splurged on anything, but we definitely spent a little more on each item than we probably anticipated when we first started planning. We skipped out on the flower toss since there were only going to be one or two single gals there. We also had very few single men in attendance and decided to skip the garter toss as well.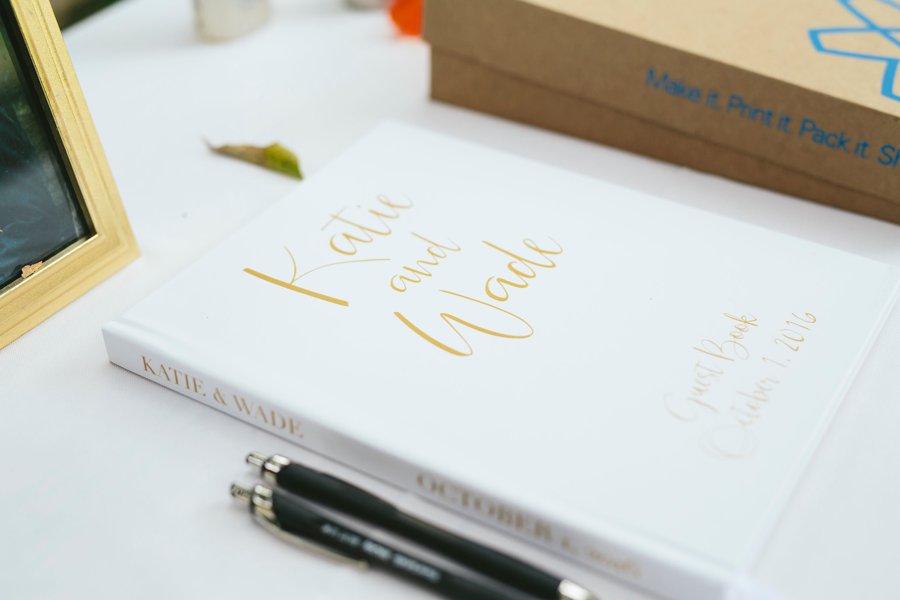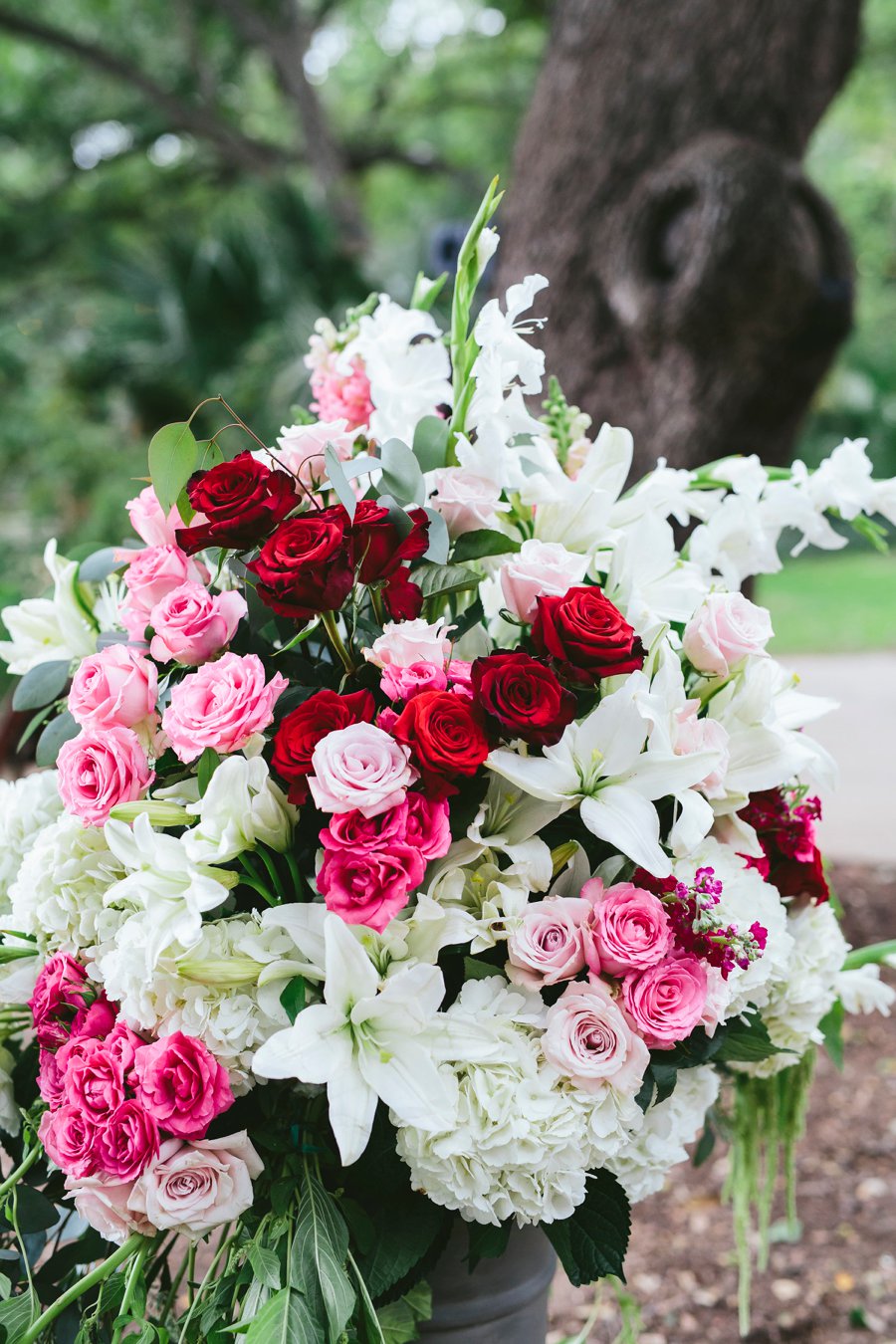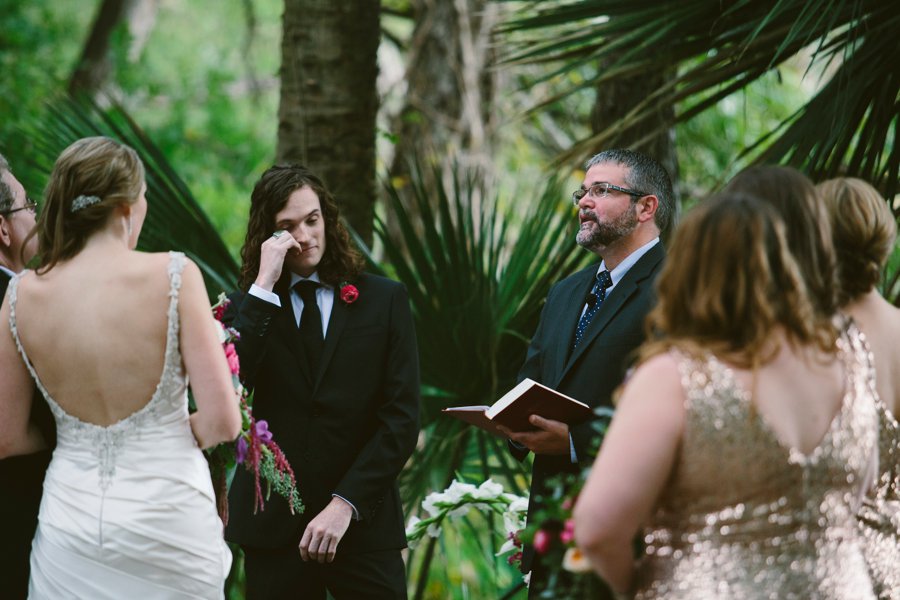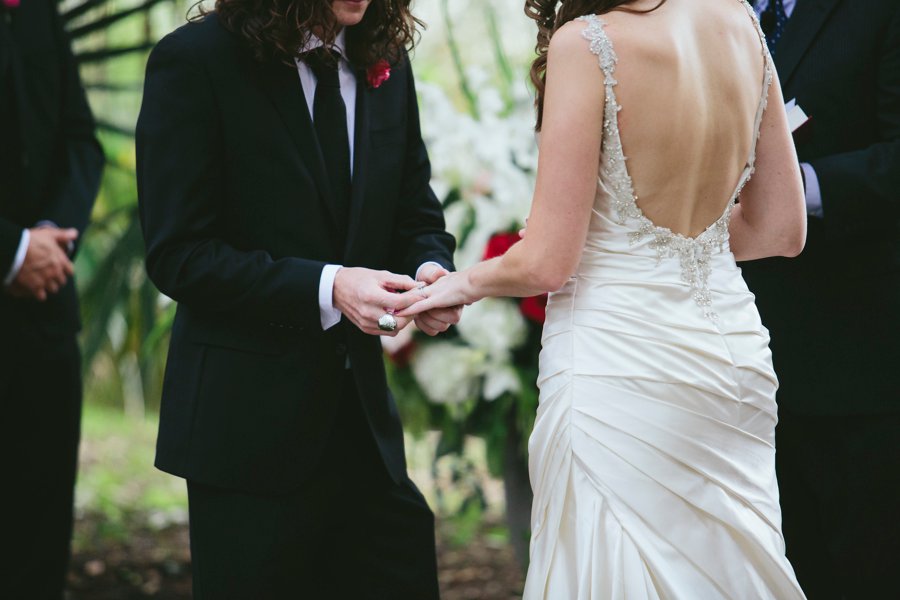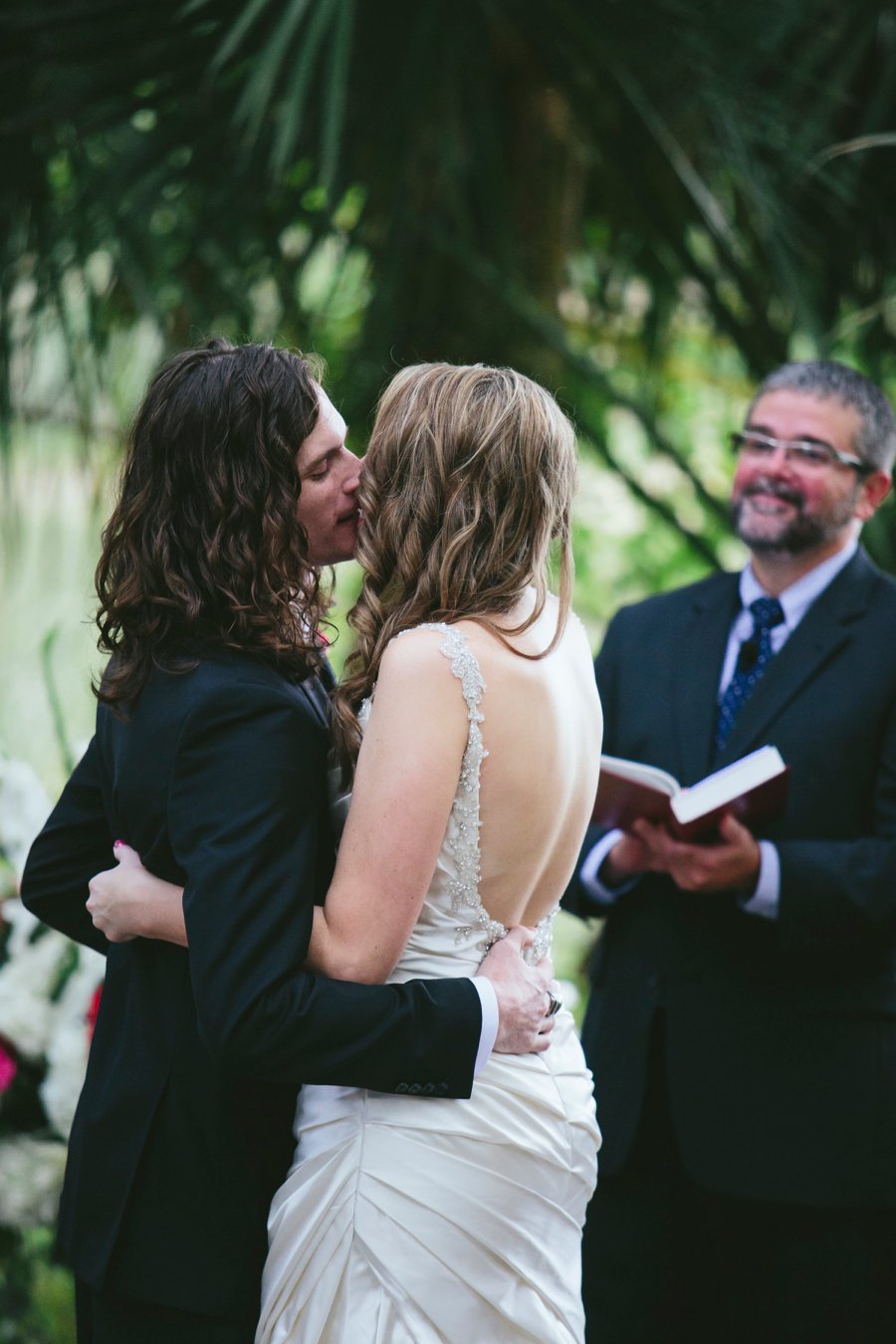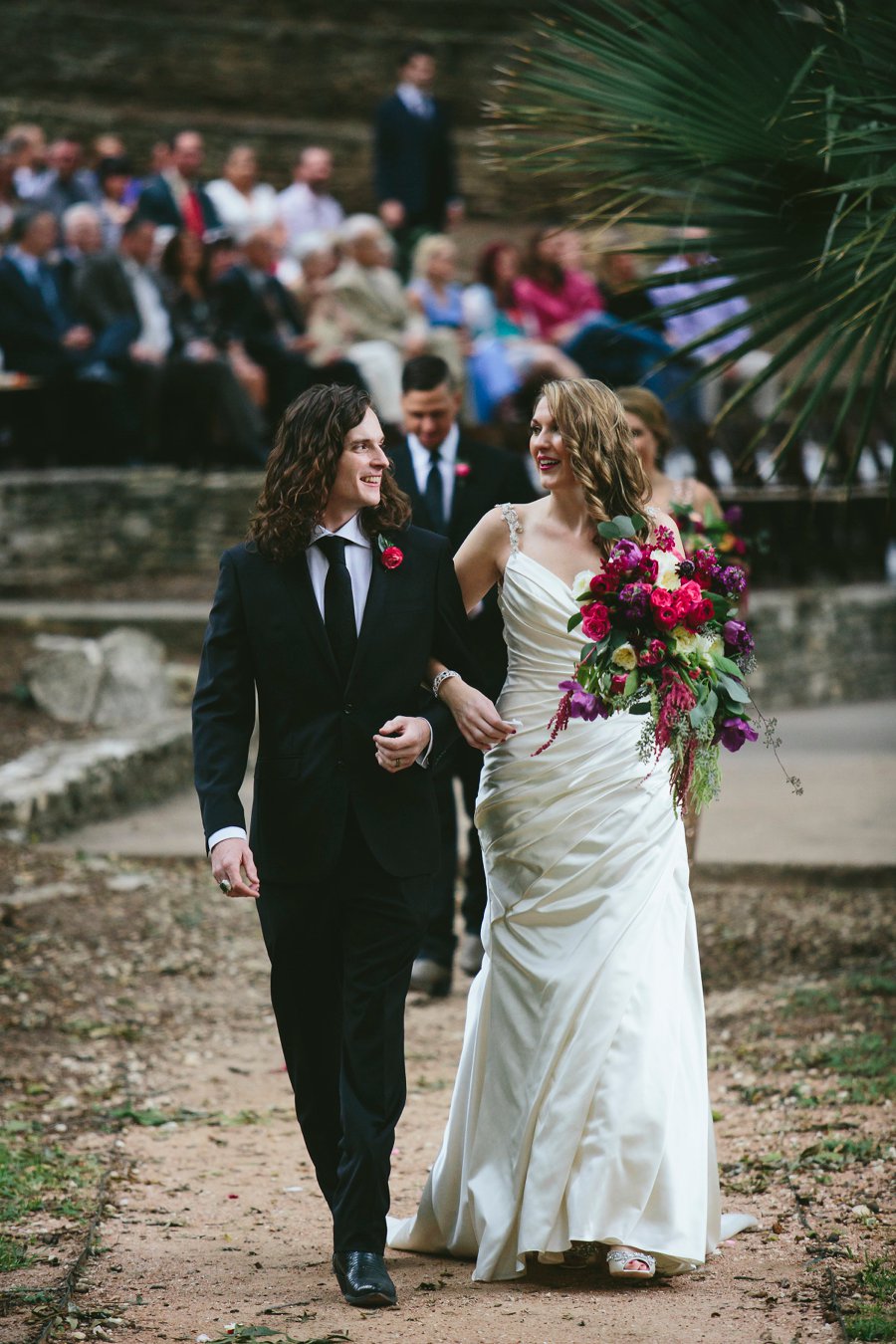 What were your favorite parts of the day? (memories and stories)
The whole day was magical but my favorite part was during dinner, when everyone was sitting down eating at the same time. We arranged the tables in a way that the head table that included the wedding party was in the center and everyone we loved was surrounding us. The sun was almost set, the patio lights were not too bright, and the candles were flickering on the tables. The flowers were flowing out of their vases and draped across the table. I looked around and realized how lucky I was to get to marry my best friend surrounded by almost everyone we loved in such a beautiful place. I grabbed his hand and told him to sit back with me for a minute to take it all in. We had done good. We were relaxed and in love.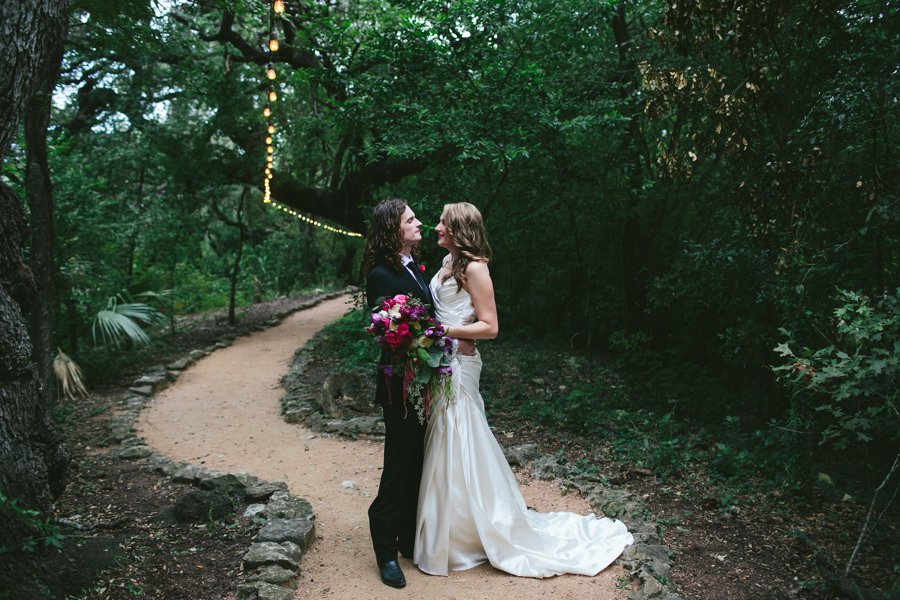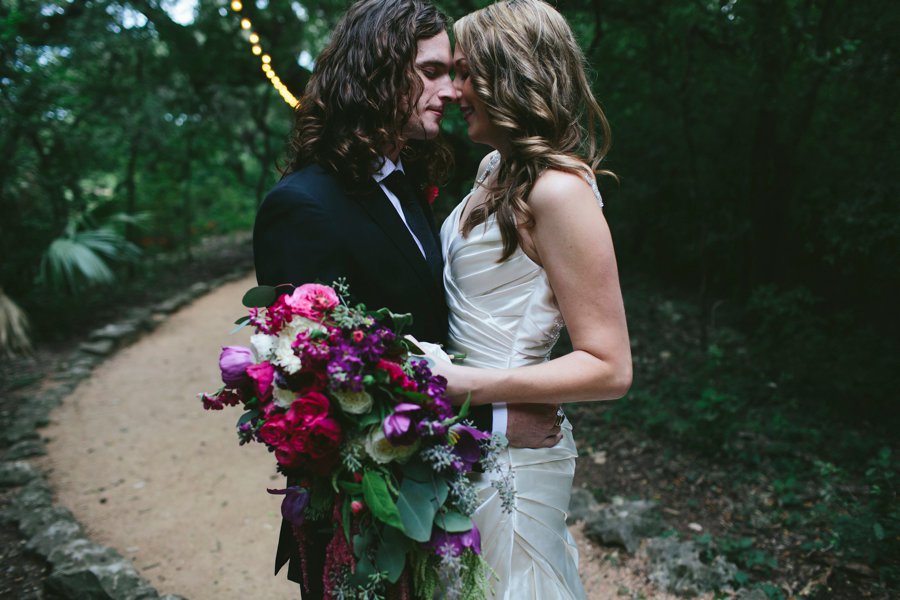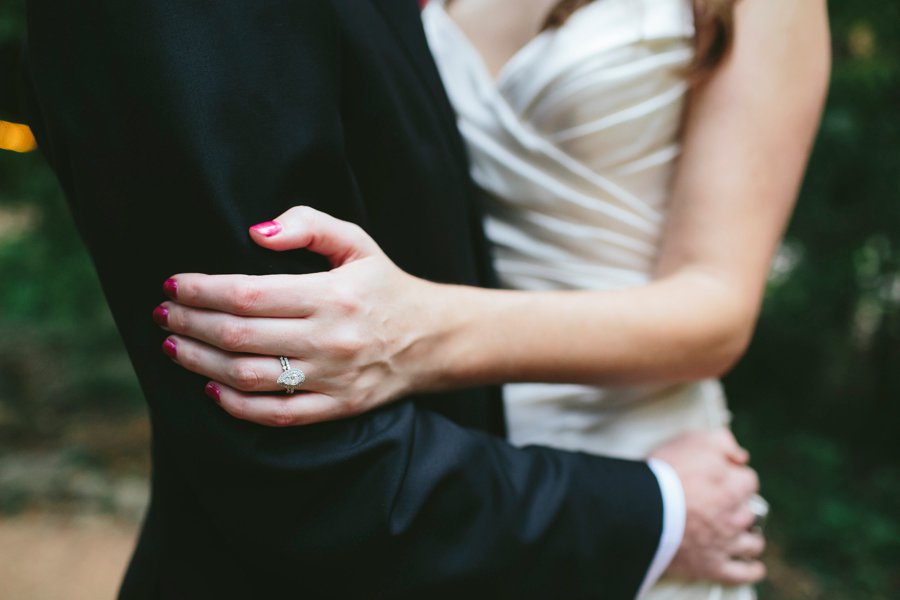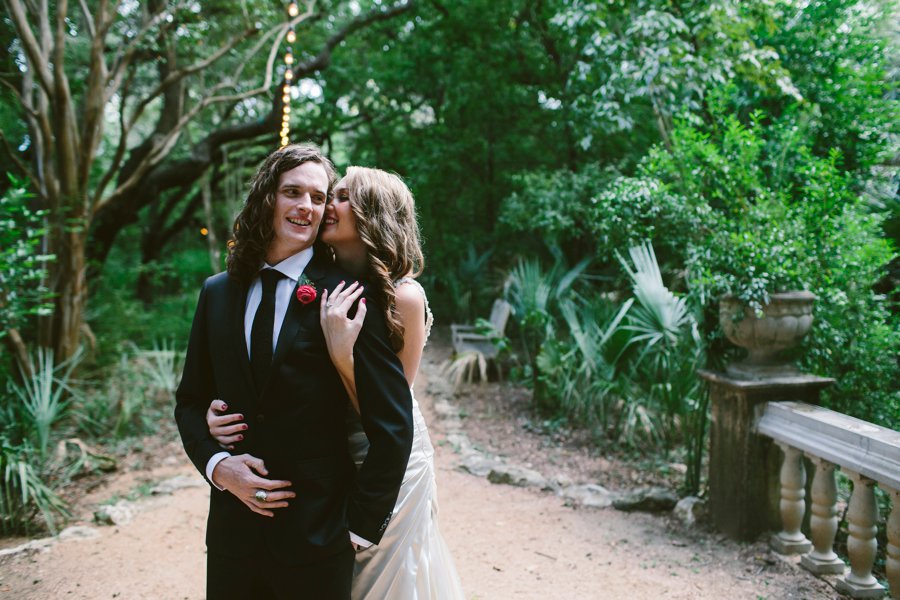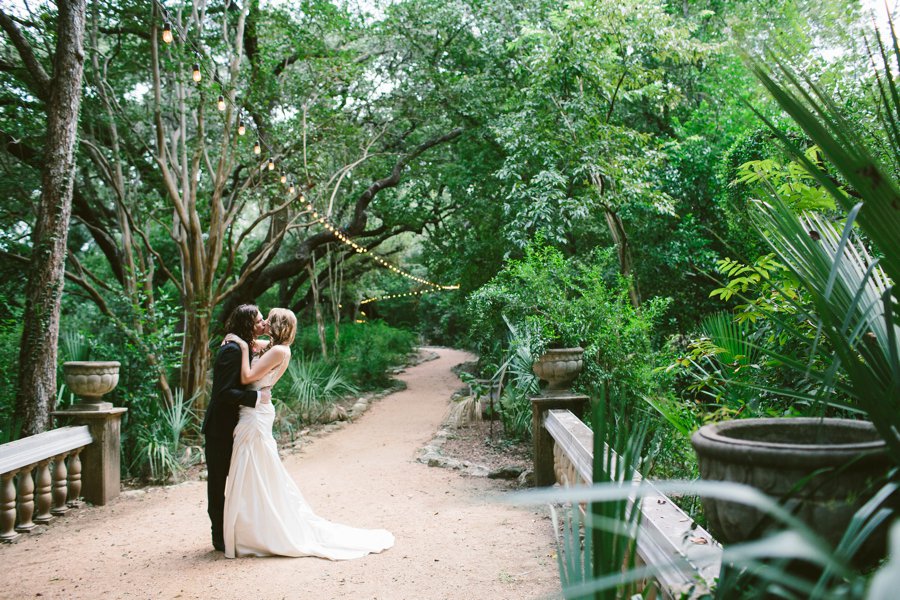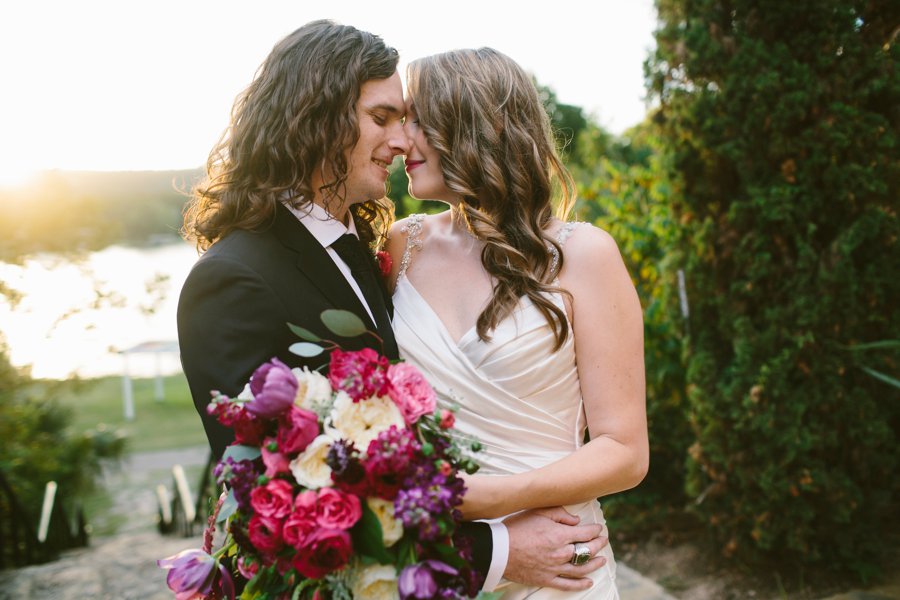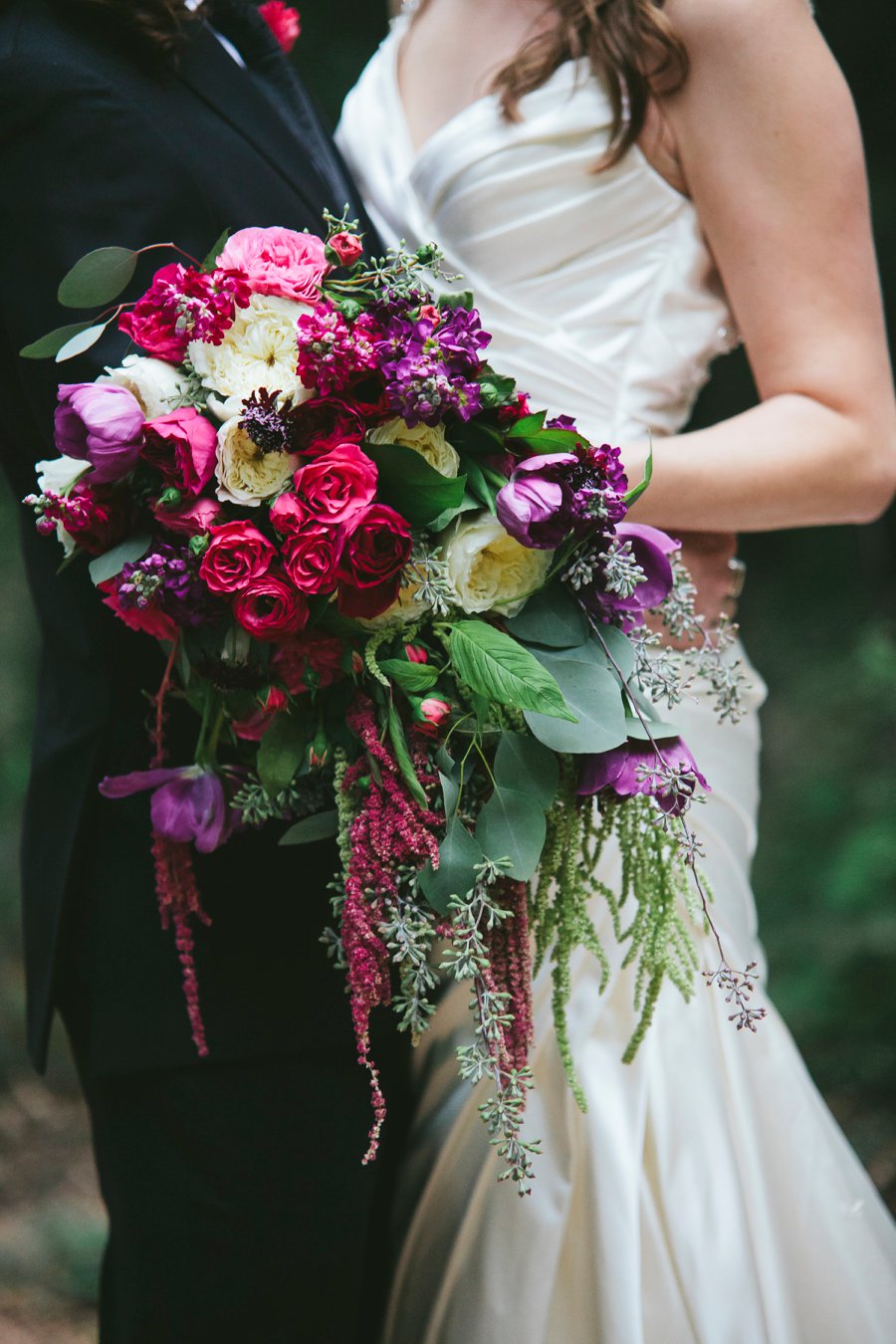 Did you include any family heirlooms or special traditions?
My mom took a piece of tatting that my great-great grandmother made, threaded it through my great grandparent's wedding rings and pinned it to the inside of my dress just before the wedding as my something old. She had done the same thing for my sister for her wedding. Just before the wedding my future sister-in-law/bridesmaid brought me a pretty white lace handkerchief that had belonged to her and my husband's grandmother.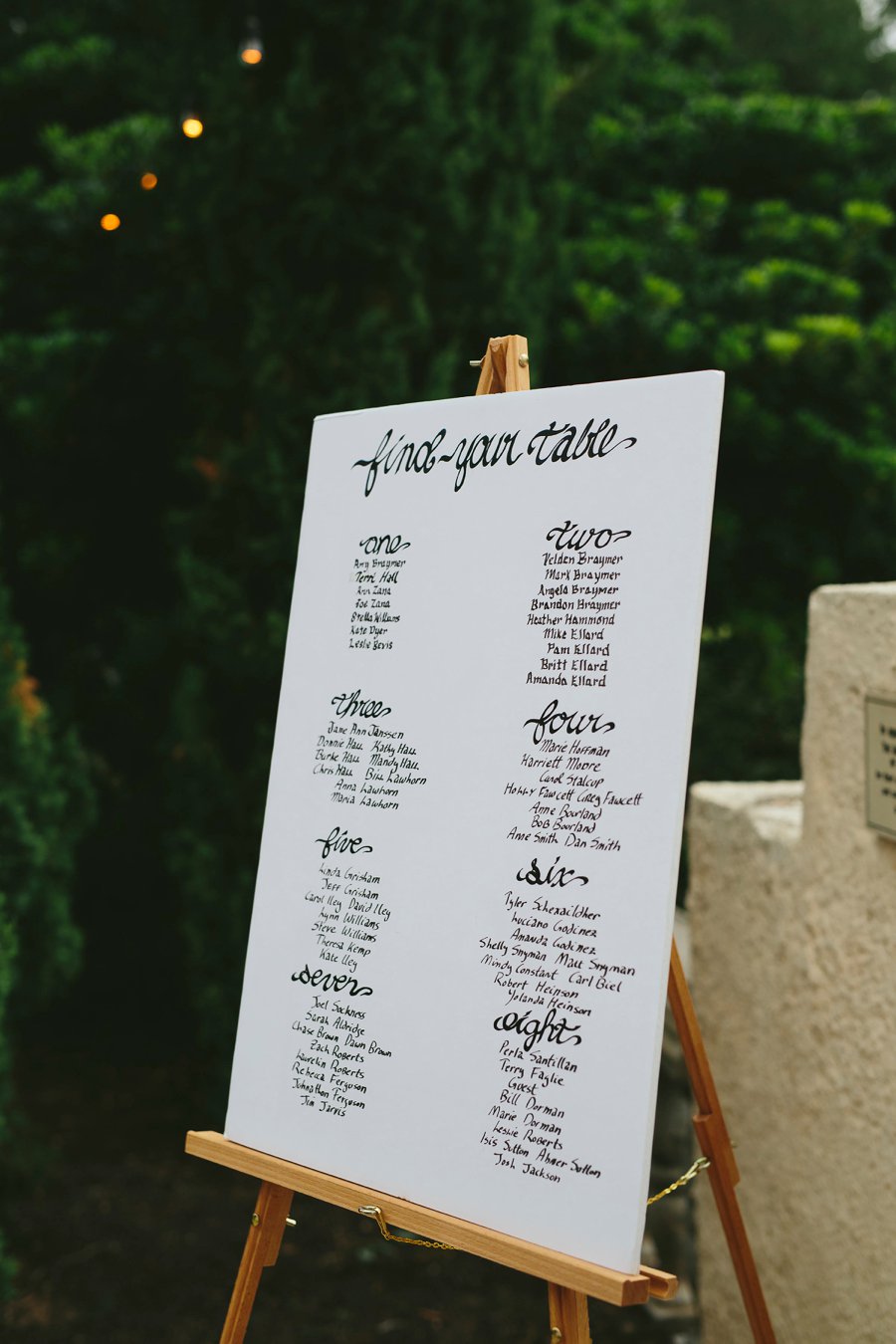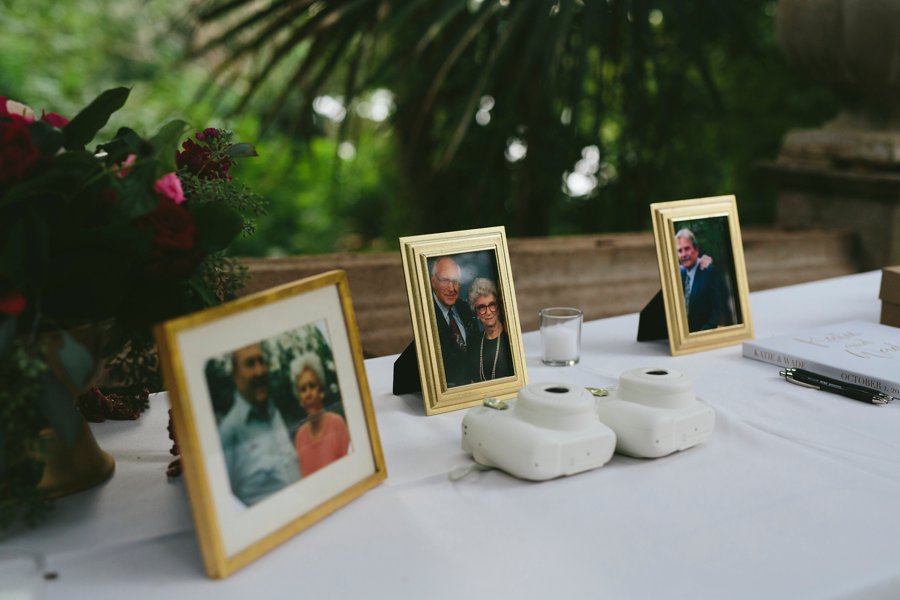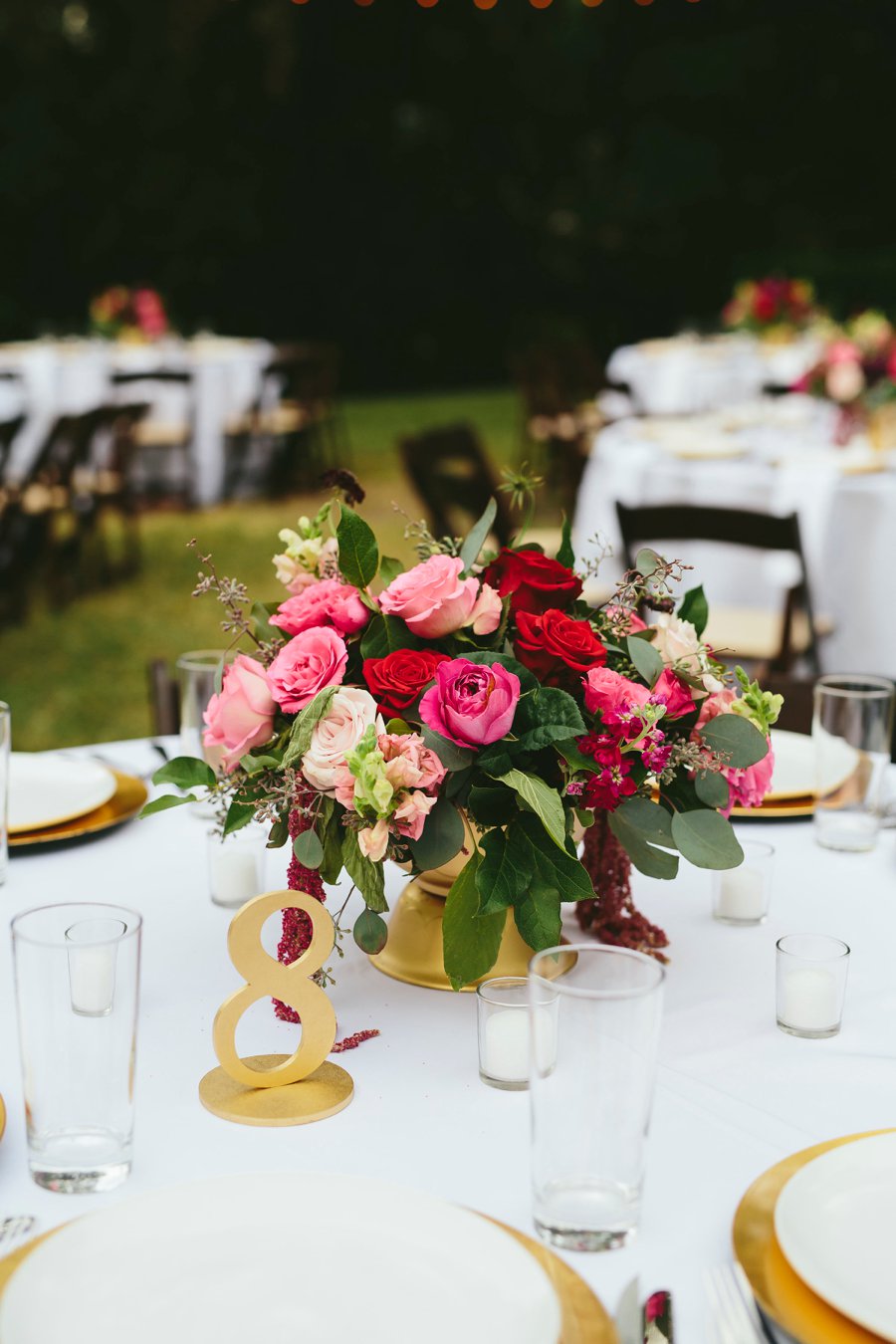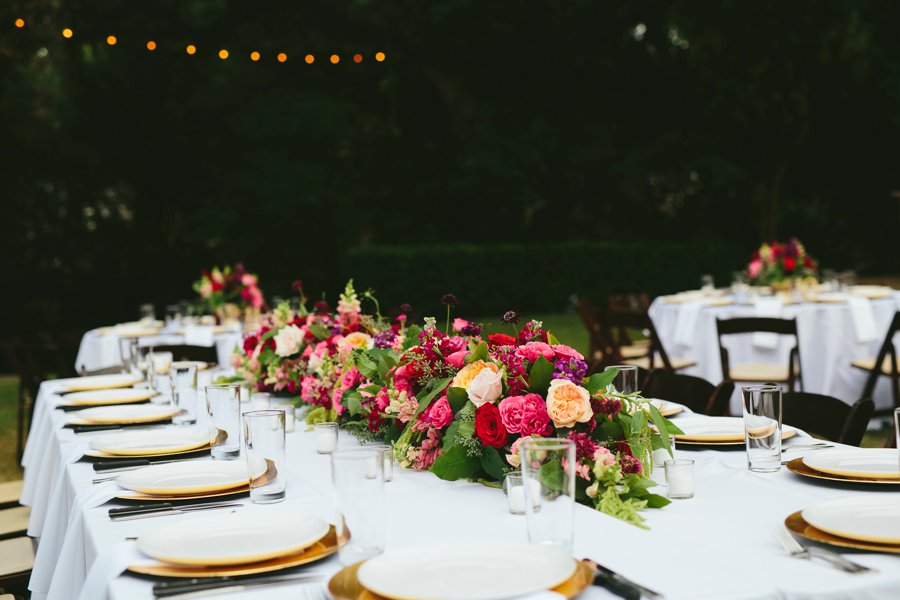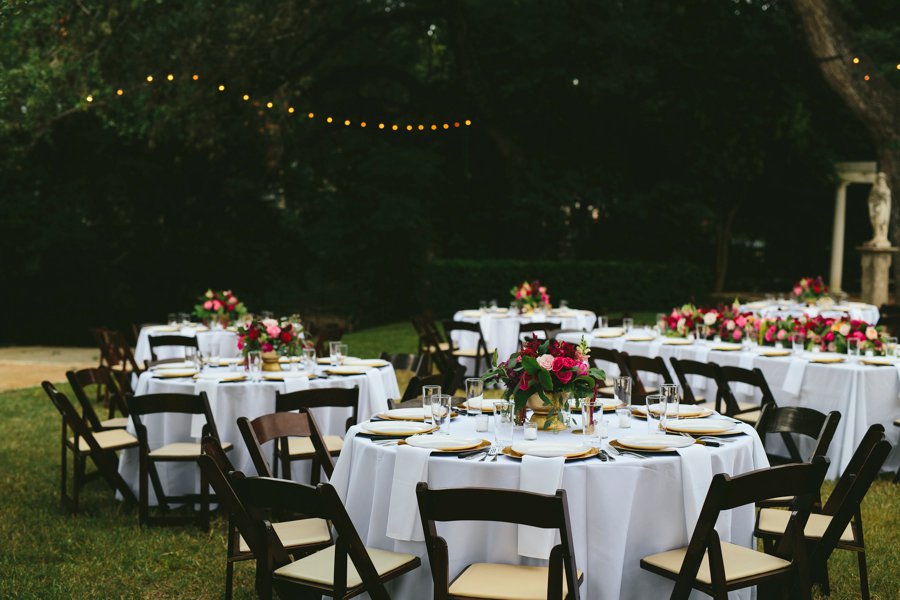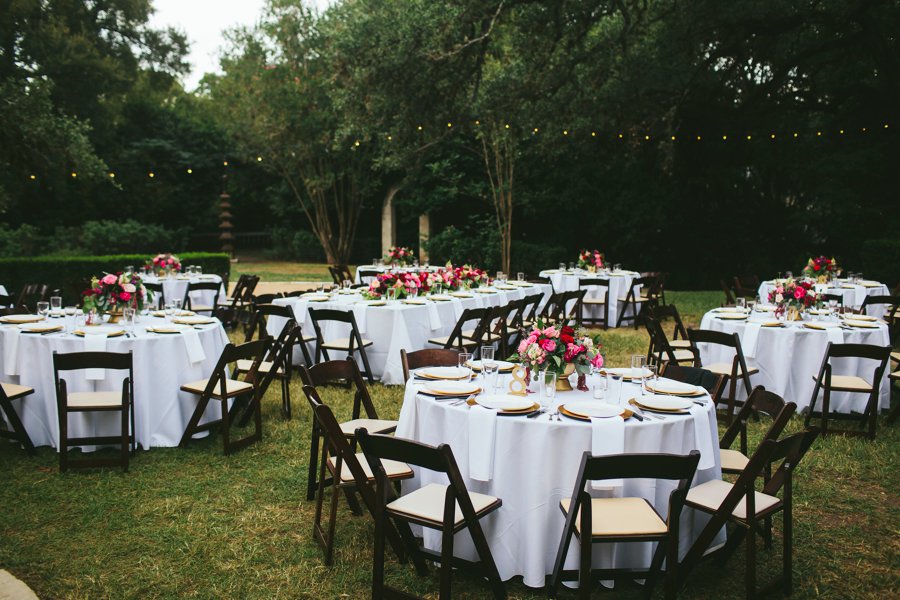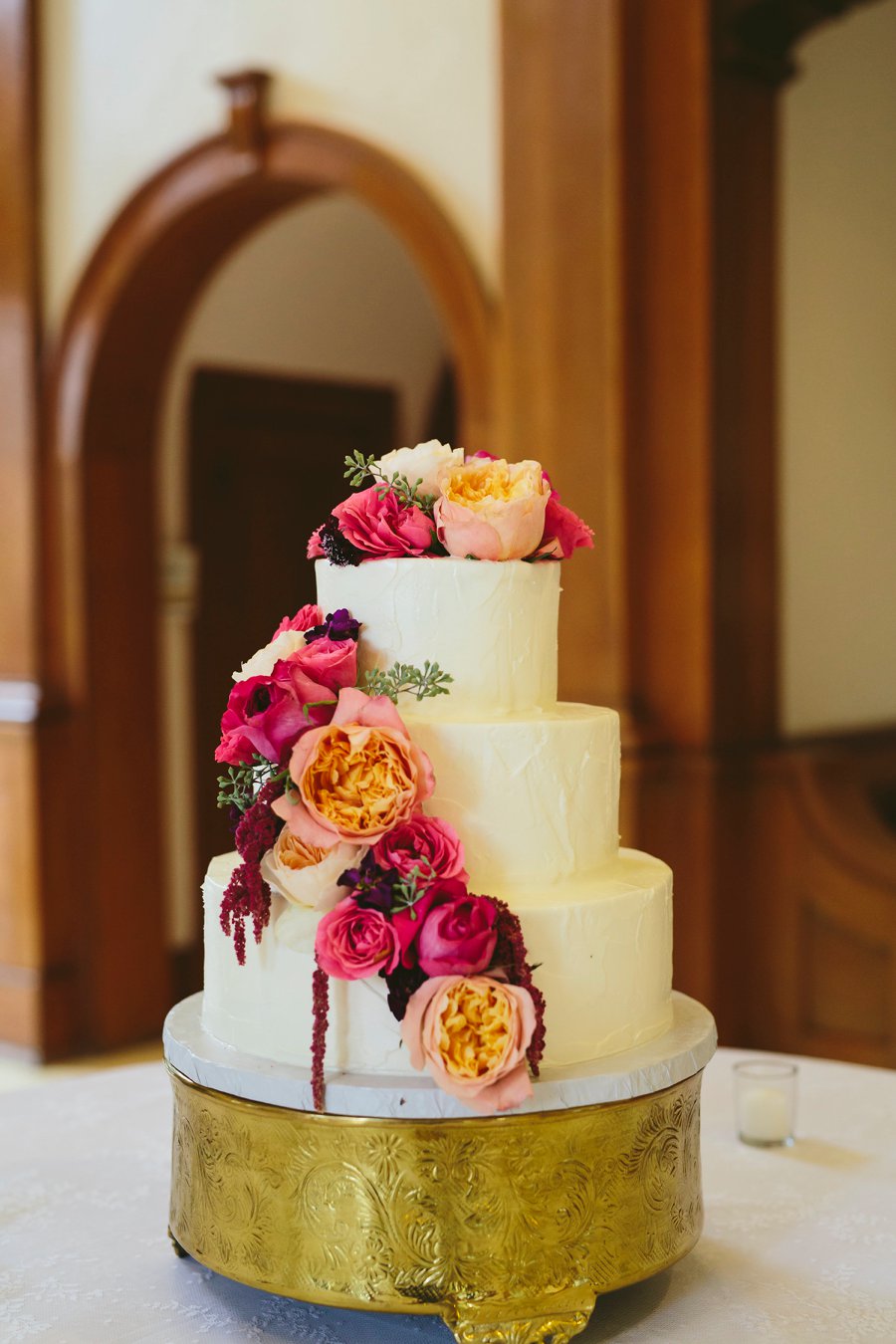 What (or who) helped you most in your planning process and/or on your wedding day?
I had a pretty stressful and time-consuming job while I was planning my wedding so my mom and my sister were a tremendous help! They helped me by figuring out the budget, making most of the phone calls, and doing a ton of research to help present good options to me and then nailed down the details. We hired a day of coordinator where her services started about 3 months out from the wedding to get everything confirmed and to keep everyone in line and the timeline moving on the actual wedding day. I would highly recommend it if you can afford it. It was a lot of stress off my family and friends who would have stepped up to do that job had I asked. I was extremely lucky to have a sweet and talented group of family and friends who are amazing at working with flowers. They executed all the arrangements and bouquets. They worked their tails off to make some stunning floral arrangements!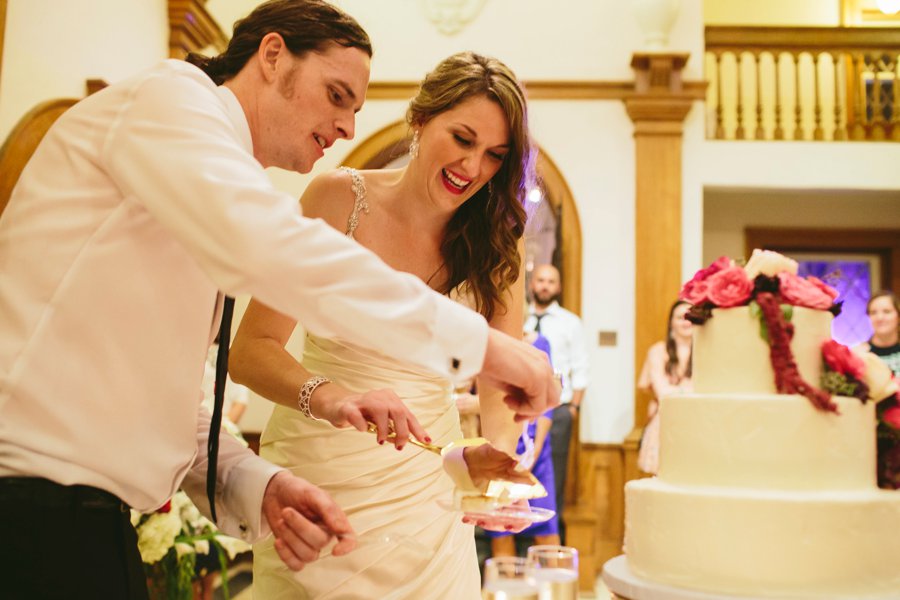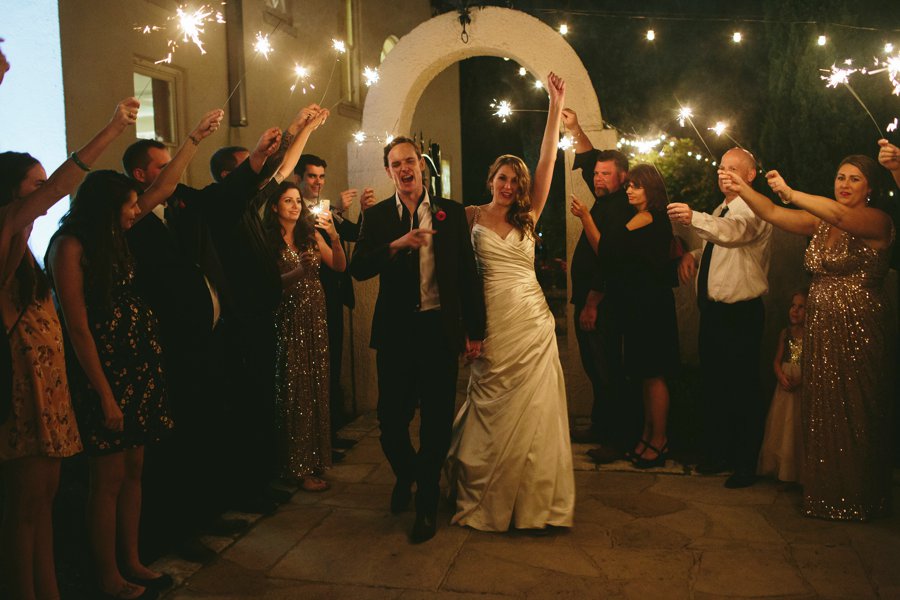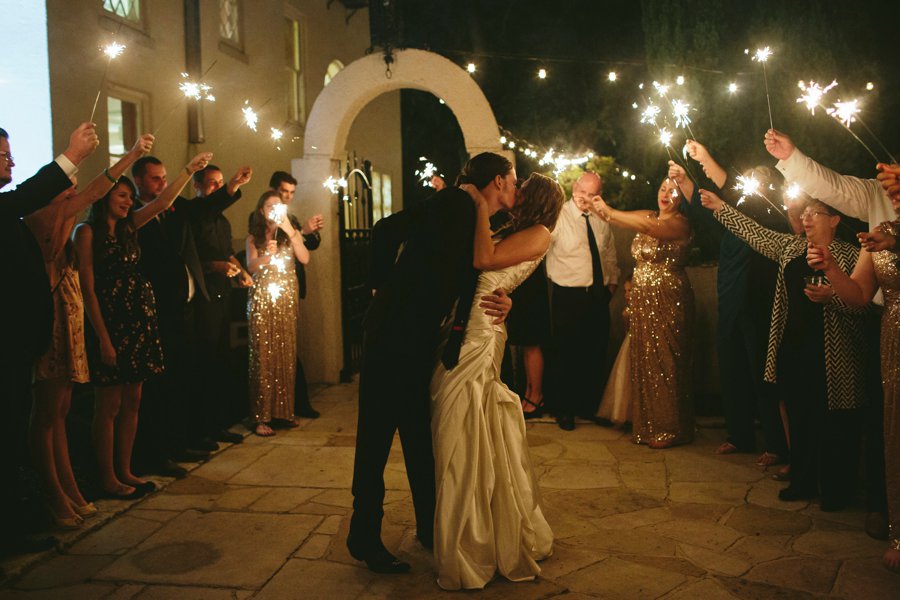 Do you have any advice for couples planning their weddings now?
Take into consideration how long the whole event will last. It goes by so fast! Remember to enjoy the day and take it all in. There is no need to stress on the actual day. I took off from work the entire week before so that I could relax and mentally prepare. I highly recommend it if possible.
Stepping back, being present, and enjoying every moment of your wedding day is some of our favorite advice! Your day will flash by, make sure you capture those moments to cherish forever.
VENDORS WHO MADE IT ALL HAPPEN…
Photography: Eva Cranford Photography // Ceremony Venue: AMOA Laguna Gloria // Reception Venue: AMOA Laguna Gloria // Event Planning: 36th Street Events // Floral: Pop Fizz Floral // Wedding Cake: Michelle's Patisserie // Catering: Royal Fig Catering // Rentals: Marquee Event Group // Linens: Marquee Event Group // Hair: Lauren Sanders // Makeup: Avery Allen Makeup // DJ: DJ The Mood // Wedding Dress: Lulu's Bridal // Groom's Attire: Capra & Cavelli // Bride's Shoes: Badgley Mischka // Bridesmaid Dresses: Rent the Runway // Headpiece: Amoretto Bridal Shop // Engagement Ring: The Austin Diamond Room // Wedding Ring: Christopher Taylor Timberlake, Fine Art Jewelry // Wedding Ring: Rosado's Box // Groomsmen Attire: Menguin
The following two tabs change content below.
Lauren Grove is the editor and owner of Every Last Detail. A clueless bride-turned-wedding planner, Lauren uses her experiences and knowledge to educate and inspire brides all over the world.