Happy Monday all! This adorable navy and aqua wedding from Katie Nesbitt Photography is full of some amazing nautical details! With a bright, preppy color palette and eclectic party decor (bunting!), this darling couple will make you want to "anchor yourself to someone special" and settle down by the shore. The lovely bride, Sirena, is here to share her planning insight: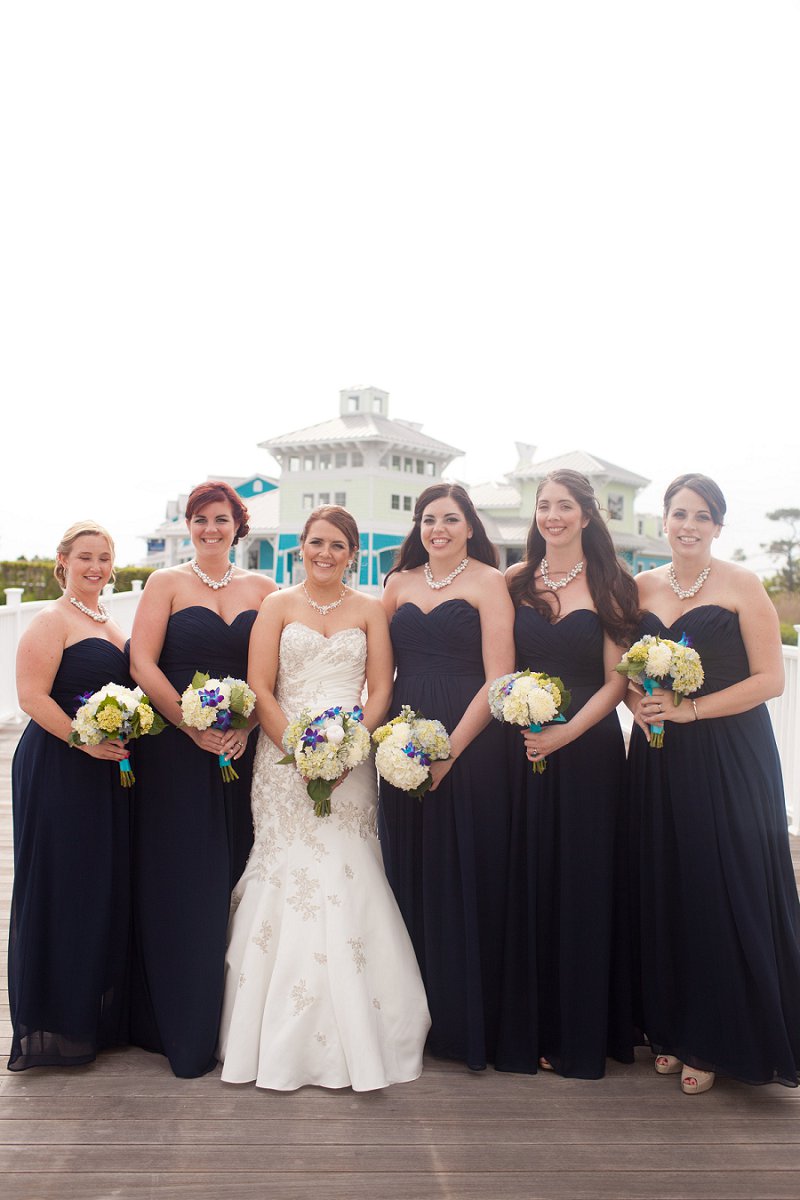 What (or who) helped you most in your planning process and/or on your wedding day?
I was very fortunate to have a lot of help during the process. My husband, mother, and matron of honor really spent a lot of time helping me during the planning. They were really great sounding boards during the entire planning process. (Yes, my husband played an active part in our wedding). Also, I had some really amazing vendors. Our wedding planner, Missy, from Antonia Christianson Events, and I have been friends since high school so I knew that I wanted her to be involved in our wedding and she recommended some other really great vendors that helped make our wedding amazing!
What was the most important thing to you when deciding who to work with for your wedding?
I knew from the beginning that I wanted to work with Antonia Christianson Events and then from there she recommended some great vendors. We really wanted vendors that were professional, understood our vision and were fun to hang out with. Our photographer, Katie Nesbitt Photography, was an awesome fit for us and having an amazing photographer and wedding planner really helps. We would not have changed a single vendor from our wedding.
What was your inspiration for your wedding details and/or design?
Our inspiration actually came from the venue location. We wanted our wedding location to be somewhere different and we wanted everyone to feel welcome. Cape Charles, Virginia was the perfect place for us and our families. Once we picked our location we knew right away that it was going to be a nautical theme to fit with the venue. Once we knew the theme our vendors really helped pull it through in all aspects of our wedding from the invitations, to the escort cards, to the cake.
What was your favorite thing about your wedding?
There were so many things from our wedding that I loved that it is hard to pick just one. I loved that we had a wedding planner. You spend so much time and money on your wedding and having a wedding planner on that day alone makes all the difference in the world. It really means that you don't have to worry about a thing and that someone else is keeping track of everything for you. It allows you to really experience your wedding day and to just have fun.
We also set up two first looks with our photographer. I had one with my husband and one with my father and both of them were so special to me. The one with my husband was so calming to have that moment with him before the wedding and we now have so many wonderful pictures from that moment. The one with my father was very special because it was the first time my dad had seen me in my dress. It was a very emotional moment that we will remember forever.
What is your best piece of advice for other brides?
Our best piece of advice is to design your wedding to allow for you to have a good time that day. Your wedding takes so long to plan but the day of goes by so quickly. Make sure that your wedding represents your personalities and that you are able to enjoy the day with your guests. You want your guests to have a good time but you also want to make sure that you are not so busy that you don't get a chance to have fun. I have heard for years that your wedding goes by in the blink of an eye and it is true. I fully believe that a good wedding planner, photographer and a great DJ are the keys to helping you enjoy the day.
I kind of love it when couples take an idea for their wedding and run with it! The key to pulling off a "theme" is vision and commitment. Sirena and Derek carried the anchor and sailor's knot detailing throughout their big day. I especially love the branded crab mallets that they gave as party favors. So cute and inventive! Will your big day have a theme? I'd love to hear your thoughts in the comments below!
XOXO,
Carlee
Vendors who made it all happen…
The following two tabs change content below.
Carlee Sizemore is an editorial and event stylist and designer of fabulous accessories. Like many others, she joined the wedding industry after planning her own wedding. Originally from the South, Carlee currently resides on the coast of Connecticut with her darling husband and adorable little boy.