SURPRISE! Happy Tuesday! I have a gift for you today… an inspiration board! Aren't you excited?! ;) I'm so sorry for it taking forever between inspiration boards. I've pretty much been concentrating on one specific design per month and then creating photo shoots to bring them to life. Which in turn means that I eat, sleep and breathe whatever my inspiration is for the month. Literally. I dream it. Lame, I know, but I suppose it's one of the "job hazards" of being a blogger! Well needless to say, this month my inspiration has bee this modern, chic look using black and taupe! Take a look…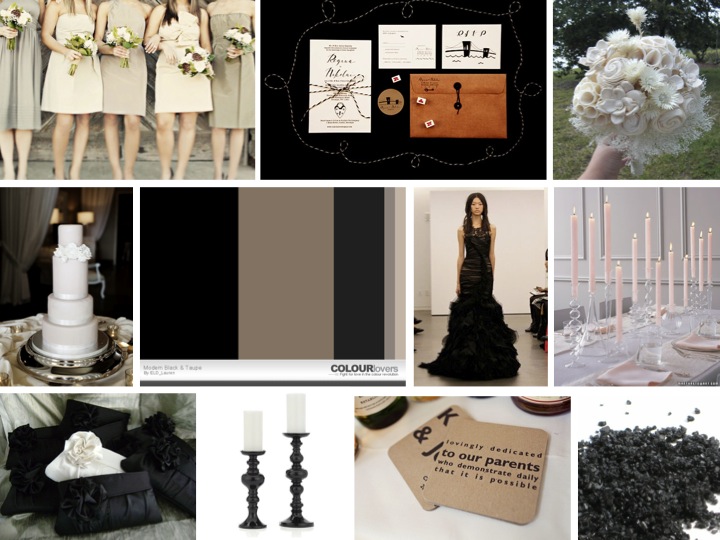 Row 1: Bridesmaids, Invitation Suite, Bouquet
Row 2: Cake, Color Palette, Dress, Candles
Row 3: Clutches, Candlesticks, Coasters, Salt
For this modern chic design, I'm envisioning a glossy black combined with a matte taupe, a simplistic yet chic candlescape on the table, and interesting details. Annnnnd I just realized that this would be an awesome color scheme for decorating for Halloween, if you wanted to go the chic route. Well, at least I'm keeping it somewhat seasonal, right?
Honestly, this black and taupe color combination has been in the back of my mind for months, and I'm excited to finally see it turned to reality! That's all I can say about it right now, but just know that you'll be able to see the product in about December (which by the way will be here before we know it)! :)
So what do you think of the black and taupe? I can't quite decide on the metal accent that should go with it- what do you think? Gold or silver? Help me decide! :)
The following two tabs change content below.
Lauren Grove is the editor and owner of Every Last Detail. A clueless bride-turned-wedding planner, Lauren uses her experiences and knowledge to educate and inspire brides all over the world.