Happy Thursday everyone! So I'm deviating from our usual series because Valentine's Day is just a week away- and as I'm sure many of you know, it's a pretty popular day for marriage proposals. Well, since not everyone has a huge elaborate plan for proposing, I thought I would do something for all the guys out there who might be thinking about proposing on Valentine's Day! I've asked proposal expert Stacy of HowHeAsked.com to share a few simple ideas for proposing that can easily be done on Valentine's Day, or any other day even!
You've picked out the girl and the engagement ring. You've also decided that you're going to pop the question on the most romantic day of the year – Valentine's Day. The only thing left to do is plan the actual proposal. Here are 3 ideas to inspire your upcoming moment:
Dessert Anyone?
Choose a restaurant that might be meaningful to your relationship – whether it's the place you had your first date or the place that's become your favorite restaurant to go to together. Make a reservation and let the staff know you're planning to propose.
During the day on the 14th, stop by the restaurant, fill the manager in on your exact plan, and give him your materials. Let him know that you'd like a platter of desserts to be brought out for you and your girlfriend to choose from after dinner. Then explain that you want to swap one of the plates with a ring holder or ring dish. (Etsy and Bed Bath & Beyond both have beautiful ones.)
Photo by Caroline & Evan Photography, Via Valentine's Day DIY Dinner Date
When the waiter comes with the platter, tell him you'd like "one of those" and have the waiter put the ring holder on your table. Your (almost) fiance will be a bit confused but her heart will most definitely start beating quickly. Once the waiter walks away, say your heartfelt words, get down on one knee, and ask her to be your wife.
Will You Be My Forever Valentine?
Remember back in elementary school when you'd get Barbie or Power Rangers Valentine's Day cards and you'd write love notes to all your crushes? You'd tell them you loved their ponytail or that they're the best kickball player in the class?
Get an assorted pack of these cards (at any drug store, toy store, etc) and write something special about why you love your soon-to-be fiance on each one. Think of your favorite memory, their most amazing qualities, or how you feel about your future together. Stick the cards around your home like Easter Eggs (don't make them impossible to find) and have your girlfriend collect all 14 (in honor of February 14th). For the 14th card, make her a huge Valentine (you can get red paper from a craft store and cut it into the shape of a heart – fold the heart in half and it becomes a card) with the words "Will You Marry Me" written on the inside.
Walk Down Memory Lane 
Unless you're like Khloe Kardashian and Lamar Odom (engaged 30 days after knowing each other), you and your beautiful girlfriend most likely have a library of memories together. Spend an evening strolling down memory lane and pick out a symbolic number of memories – maybe it's 5 memories for the 5 years you've known each other, perhaps it's 14 memories in honor of the 14th of February, or it could be any other number that fits into your relationship's unique story. Print a photo of each memory and write a note or story about each experience.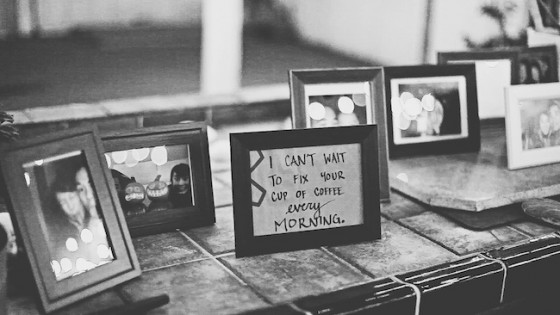 photo by Chennergy
Try to share feelings you remember having that you may not have shared at the moment. Example: "When we had a picnic at the park and you suggested a game of catch with the family sitting next to us, I got this overwhelming excitement to start our own family in the future". Set up the memories along a wall or table in your house and surprise your love when she gets home from her day.
Try to capture her reaction by setting up a camera in your house as well. A few days after the proposal, make a book out of the memories you used in the proposal and add a photo and note from the actual proposal to the last page.
Photo by David Wittig Photography
——————————————————————
And there you have it! 3 simple -yet unique- ideas for proposing on Valentine's Day! [Because if you're anything like my husband, you might feel like you need an extra push to think of something creative. ;)] And for even more proposal ideas, you can check out HowHeAsked.com!
[Oh and of course once you've proposed, be sure to send your new fiance here to ELD to find inspiration and wedding planning advice!! :)]
Do you have your own proposal story to share? Feel free to tell us all about it in the comments! It could be great inspiration for someone else!
The following two tabs change content below.
Lauren Grove is the editor and owner of Every Last Detail. A clueless bride-turned-wedding planner, Lauren uses her experiences and knowledge to educate and inspire brides all over the world.