Happy Friday friends! So it has been a BIG week here at ELD!!! By now I'm sure you've discovered that things are a little different here at ELD (and if you haven't yet, go take a look around and then come on back) thanks to the launch of ELD 2.0 this past Monday. But I have yet *another* thing to celebrate this week, because TODAY IS EVERY LAST DETAIL'S OFFICIAL BIRTHDAY! (Or anniversary… or blogiversary… I really haven't decided what to call it.)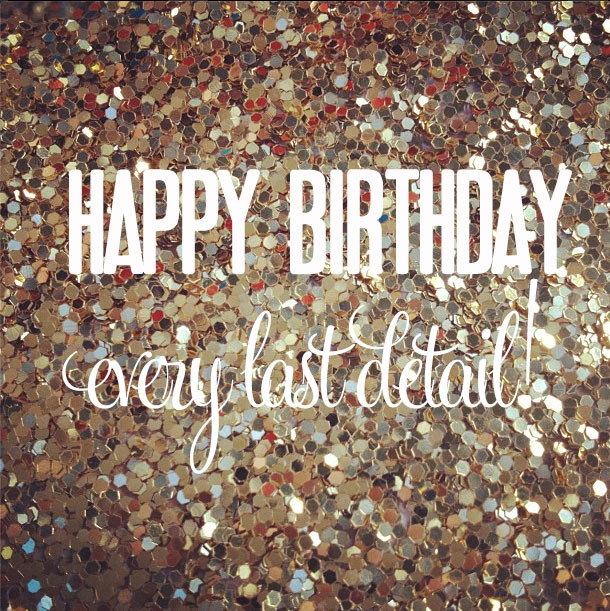 That's right… 3 years ago, on December 7th, 2009, Every Last Detail officially launched. It was just a tiny post "announcing" the official launch, and it wasn't the prettiest or best site ever, but it was my own little corner of the internet that I decided to lovingly refer to as Every Last Detail. 3 years ago, I had just been laid off from a desk job, was working part time in the wedding industry, was newly married, and had recently coordinated one of my first weddings. At the time, I totally thought I was going to be a wedding planner- I had no clue that ELD would go in the direction that it did. If you had told me on that day 3 years ago that I would be blogging full time, I would have thought you were crazy! And now, here I am, 3 years later! It's been quite a journey, and I'll be honest- sometimes I don't quite know what the plan is and things can get a tad bit stressful… but I wouldn't trade it for anything!
With the launch of the new ELD, a super amazing inspiration-shoot-turned-dinner-party on Wednesday night, and now the 3 year "birthday", I've spent a lot of time this week reflecting on how far both I and ELD have come. The word that keeps repeating over and over in my head is: thankful. Thankful for the great friends I've made who I would have never met if it weren't for Twitter and the wedding world (yes, I admit it- I have Twitter to thank for many of my friends). Thankful for having a wonderful, supportive community in all of you. Thankful for the pushes when I need them, and reining in when necessary too (I tend to have LOTS of ideas and no time to do them…). Thankful for the people who have trusted me with the marketing of their businesses, and the relationships that I've been able to build with them at the same time. Thankful for my lovely contributors who enable me to provide even more pretty to you all. Thankful that my husband and family- although they really don't understand what I do- have given me nothing but support. Yes, it's most definitely been an overwhelming- and crazy- week of thankfulness over here! And so on that note…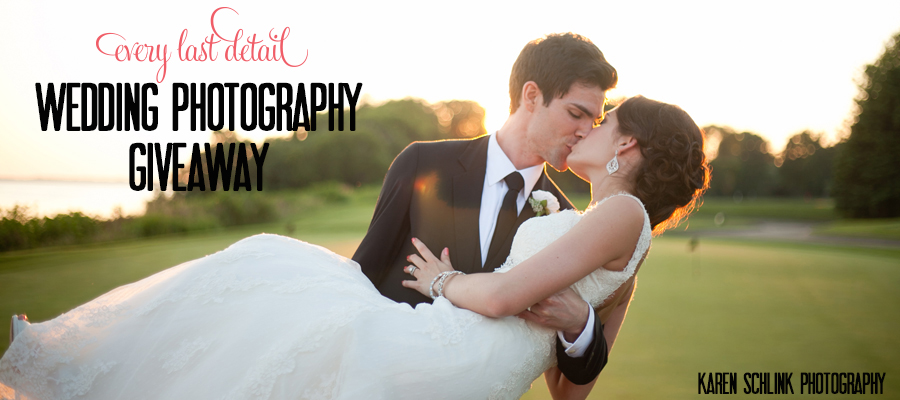 … I'm ending this week with something HUGE and AMAZING… a photography giveaway! And this isn't just any photography giveaway… it's wedding photography, all day, anywhere in the world, from Karen Schlink Photography! There are several opportunities to enter below, but the only big requirement for entering is to email Karen with your "story", your wedding date, and a photo of the two of you!*
UPDATE 12/21/12: The winners of the "Anywhere In The World" giveaway have been selected……
Maren and Marco from Germany, you have won wedding photography from Karen Schlink!! (Karen will be emailing you!)
To everyone who entered, thank you so much for your excitement, and your support of ELD too! :) I'm so thankful to have you all as readers! 
*Disclaimer: Winner will receive full coverage wedding photography, anywhere in the world. Date is subject to Karen Schlink's availability, and winner is responsible for travel costs.
Another big huge THANK YOU to all of you… and now come celebrate with me and enter this awesome giveaway!!
The following two tabs change content below.
Lauren Grove is the editor and owner of Every Last Detail. A clueless bride-turned-wedding planner, Lauren uses her experiences and knowledge to educate and inspire brides all over the world.