Not too many couples can say they exchanged vows at a castle followed by a New York winery wedding reception! But for Linda and Alex, that was their reality. And it's magical. Linda and Alex began their day at Breitenbach Castle in upstate New York. Their ceremony was held inside a stonewalled court yard complete with a chandelier. Post ceremony, they switched locations and rejoined their guests at nearby Altamont Vineyard and Winery where rows of grapevines, a tent complete with branches winding overhead, and more gorgeous scenery awaited for their elegant winery wedding!
From the robes Linda and her bridesmaids wore while getting ready and the pastel dresses donned by the girls to the gorgeous garden inspired florals with dashes of gold, everything about today's wedding is completely elegant…and straight out of a fairytale. Linda is sharing so much more of her wedding planning journey below, and we are beyond grateful Keira Lemonis Photography sent over such stunning images!
What (or who) helped you most in your planning process and/or on your wedding day? 
Primarily, Alex and I did majority of the planning independently. We had the time. It helped us to save some money, but most importantly, we personalized it to fit both our styles. We were able to hand select an eccentric wedding team of vendors that included the two venue sites. We both knew it would be a lot of work due to the unconventional settings. But to us it was like a "blank canvas" that enabled us to paint the wedding of our dreams. In pursuit of our all-star team many wedding websites, blogs, and online research facilitated our planning. Some sites included our wedding website on Mywedding.com, Wedding Wire, The Knot, and Pintrest. When we found our locations and connected with the owners of the castle and vineyard the referrals escalated from there! Both had offered wonderful vendors in which they have worked well with. This became our lead. We did our research and made a list of all potential vendors that we thought we would need (caterer, florist, photographer, event rental company, band/dj, musician, transportation etc.) One vendor that Breitenbach had referred us to was A Gracious Events, an event company that specialized in unconventional weddings. Laurie Beckmann of Altamont, NY and her team were great. They helped Alex and I connect all the dots and "fine tune" all the details. We hired them as our day-of wedding coordinator and they brought to life our fairytale wedding.
What was the most important thing to you when deciding who to work with for your wedding? 
One other thing that helped us envision and develop the theme to our wedding was attending a wedding show. We attended a two day bridal event in our area which was a great experience. It was both inspiring and convenient as there were all the top vendors within our area all in one place. So prior to attending the bridal show we made a list of all the vendors we may need and we had questions ready for when we meet them and took notes on what we liked and disliked. I would suggest doing this so that when you return home you can read over your thoughts and come to an informed decision. But for the most part after meeting a vendor you will know from intuition whether they will be a good fit for you or not. One vendor that we came across at the show was our event rental company. Total Events had a booth with a beautiful tablescape that caught my attention. In retrospect, it was THAT exact tablescape that motivated the romantic black tie theme for our wedding and at the time I didn't even know it!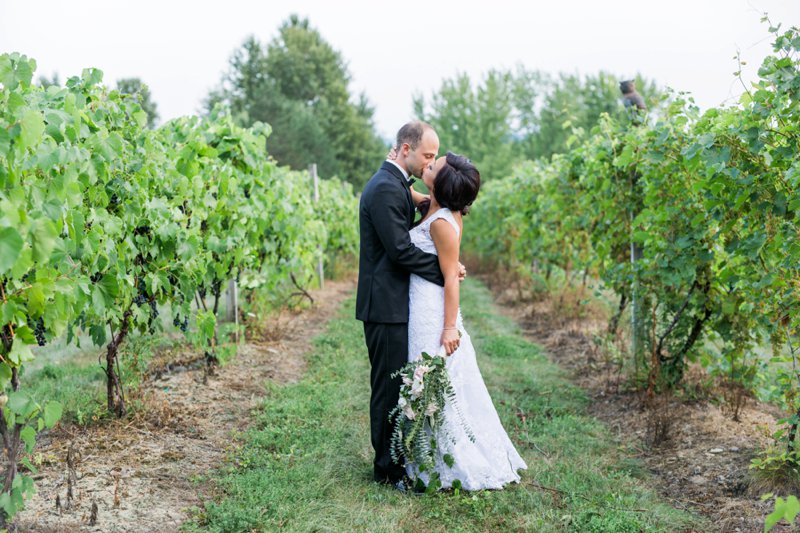 What was your inspiration for your wedding details and/or design?
The inspiration for our wedding sparked when my husband Alex and I had made a bold decision to start a new life together in the Finger Lakes region of New York (New York's Wine Country) back in 2013 when we first were engaged. Our "chateau" (2-bedroom apartment) is surrounded by copious wineries and vineyards which became the motif for our wedding. Although beautiful, neither of us considered the Finger Lakes home, nonetheless it transpired the idea of hosting our reception at the Altamont Vineyard and Winery located within the Capital District of New York where Alex grew up. Some would say I am a bit of a romantic and this was quite evident when it came down to deciding where to hold the ceremony. We came across the most ideal fairytale setting, a castle. I mean come on, what girl wouldn't want to marry her prince charming at a castle! We connected with Thomas Breitenbach of Altamont, NY. An amazing architecture and artist who spent four summers building his castle home and studio. The castle was built over 30 acres of land and the stones were quarried on the property (some as long as twelve feet). Oak trees were cut from the woods for cabinetry and moldings. Collapsing barns were used for their hand-hewn beams and planking. He even made stained-glass windows that gave the castle its ancient Roman appeal. His most recent work on the castle property was a freestanding stonewall arch, perfect for a garden ceremony. The wall is made up of 7,000 pounds of limestone, constructed without using any cement. We hung a chandelier at the arch and this is where Alex and I exchanged our nuptials.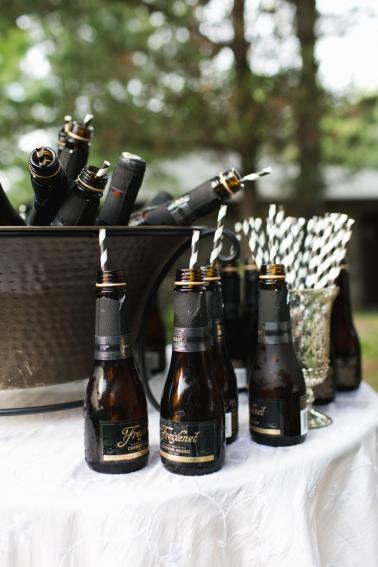 What was your favorite thing about your wedding?
Alex is half Irish and Greek and I'm Vietnamese and Chinese. We personalized our wedding with a lion dance show. This cultural dance is performed at the reception as a blessing bestowed upon the newlyweds. During the dance the lions present the couple with presents, such as oranges to represent prosperity and bamboo to symbolize strength and fertility – important qualities in a marriage. Since the lion itself represents wisdom and luck, it has the power to chase away spirits who wish to destroy happiness. When the show is over the bride and groom present the lions' payment inside a lucky red envelope, which is tied to a green vegetable to symbolize the money inside. Most often, this is a bok choy lettuce leaf. While performing the intricate Choy Cheng (eating of the green) dance, the lions toss loose leaves to guests to spread the evening's prosperity. At the end, the lions often unfurl a calligraphy-inscribed scroll that contains a hopeful message, such as "Bac Nien Ho Hop" – 100 Years of Happiness Together. Additionally, to kick off the dancing for the night a personally selected Greek song traditionally enjoyed at weddings was played and both families joined hands and danced together symbolizing the blending of two families.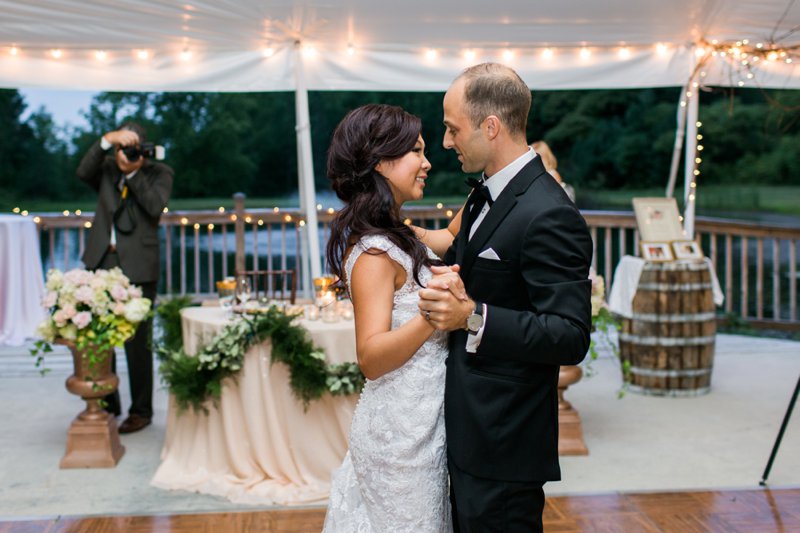 What is your best piece of advice for other brides? 
For the bride that decides on an unconventional wedding, I would suggest selecting one venue rather than two as we did. However, fittingly, the two locations for us were within 5 miles of each other. Nonetheless thinking of our guests they would have to get back into their cars and drive to the second location. As for the investment you will need to make in order to transform your unconventional setting, for us our locations were naturally beautiful, which meant we didn't need to do much interior or exterior decorating.

One suggestion in personalizing your reception and making it extra special can be to incorporate something that is meaningful to either or both the bride and grooms family. Whether it be culturally, or an old tradition, honoring your families in heritage and traditions is a wonderful way to pay respect to your families. Alternatively, if a show or performance is something you'd like to offer your guests during dinner, you can tie in an authentic show from the destination of your honeymoon. For example if you are planning a honeymoon in Hawaii, a Hawaiian fire dance would be spectacular and entertaining. Food for thought. I hope that our wedding has sparked some great inspiration and we wish you happy planning! Your wedding will be as beautiful as you are!
Vendors who made it all happen…
Photography: Keira Lemonis Photography // Ceremony location:  Breitenbach Castle // Reception location: Altamont Vineyard & Winery // Wedding Planning/Design: A Gracious Event // Floral Design: Bella Fleur // Caterer: Mazzone Hospitality // DJ: Saratoga Sound DJ // Entertainment: Lion dancers // Videography: Avec Lumeire // Event Rentals: Total Events 
The following two tabs change content below.
My name is Carly, and I live for love whether it's the love I witness between my family members and friends or the love I have for places and weddings. For these reasons and more, I write about the wedding industry, and I'm an event planner, designer, and floral stylist who will forever be in love with flowers, pink, and bows.