I may be a wedding blogger, but I do know a thing or two about weddings, since I used to plan and design weddings. I worked with brides, parents, and even grooms, and yes, it was trying and stressful at times… but it always ended up being more rewarding than anything else! And through it all, I definitely witnessed a few instances where things were a bit more stressful than they should have been, and it all came down to one single wedding planning mistake…
not communicating!
The ability to communicate is one of our biggest gifts as humans, don't you think? It enables us to share what we are thinking, what we want, and what our hopes and desires are. But when we don't communicate, problems ensue. I'm pretty sure we've all experienced the repercussions of not communicating, and usually the results aren't the best. Whether it's a fight with a friend or loved one because you didn't communicate, or choking down a bad meal at a restaurant because you don't want to say anything, not communicating just never ends well. Just like communication is important for life, it will be good to remember to communicate when it comes to wedding planning too.
A wedding is a very visual thing. Most brides (and grooms too) have a vision of what their wedding should or will be like- whether they know it or not. There are expectations that you have when you're planning a wedding, and it's important to communicate those expectations to the team involved in making your wedding happen. After all… as much as I'm sure they wish they were, they aren't mind-readers!
So with all of that said, here are a few tips (ones that I wish I had known) to help you avoid the mistake of not communicating:
Preferred method of communication…
Make sure you have provided your wedding vendors with how you prefer to be contacted. Some people are awful at email, and awesome at phone calls, while some are great with email and horrible with the phone. If you let them know what your preferred method of communication is right off the bat, then you won't have to worry about not being able to effectively communicate!
Establish expectations…
Not all vendors are going to need the same level/amount of communication from you, but I know that sometimes it can feel weird if you don't hear from them in a while. To avoid this, ask your vendors right off the bat what you should expect for a timeline of communication. Will you be working with them throughout your whole planning process? Or maybe you just need to make a few decisions early on or a few months before the wedding. Each professional can inform you as to what their typical process is so you can establish communication expectations.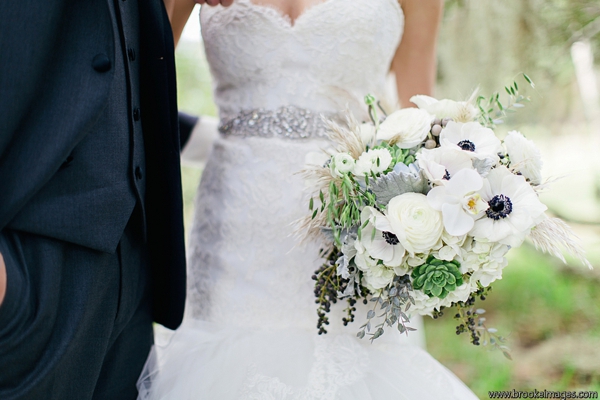 Image via Shea Hopely Flowers
Share your vision…
Like I said before, you all have some kind of vision in your head for what you expect for your wedding day. It may be super specific, or it may be just one little thing you're thinking of- whatever it is, share it, because it's part of your vision that you need to communicate to your team.
Don't hold back…
If you find yourself dreaming of something, thinking of an idea you think might be crazy, or even just wondering about something, don't hold it back! Share it with who you're working with, because you never know what could come from it! Besides- if you have something you want for your wedding that you hold captive in your head, it's going to become an expectation, and you're just going to be disappointed if you don't have it!
And because I want to always provide you with plenty of information, I asked members of The V List for some of their tips and insight when it comes to communicating…
"Trust (both ways!) is the absolute most important thing to me as a planner. I cannot fix, change, or mediate a circumstance for a client unless I know there is an issue in the first place. I would much rather a client voice a concern with me quickly than to let a worry develop into something that is irreversible. I promise that voicing an honest concern will only help our relationship! I love my vendors, and I value authenticity with each of them. Having the same open lines of communication & trust with my clients only makes the planning process that much smoother." – Laura of Ashton Events
"Keep in mind that fast response times are completely warranted during normal business hours and we try and return every phone call and email within the hour, but at the most within 24 hours. However, there are occasions (weekends and evenings) when we may be at another event or spending time with our family, and it is not possible to respond right away. Please have patience and know that we will respond as soon as time permits." – Kelly of Just Save The Date
"If you DON'T go with a vendor, we always appreciate a "hey – we decided to go in another direction" because on the other side of it, it's always in the back of our mind to follow up with you. Wedding pros put a lot of time into inquiries whether they book or not and we are always happy when someone gives us the courtesy of a follow up to say they want to proceed or went with someone else." – Mikkel Paige
"Read emails thoroughly!!! Everyone (including me!) is guilty of breezing through incoming emails on your phone. Make sure you set aside time to break out the trusty ol laptop and digest what your vendor is telling you via email (like appointment times that are available for a meeting we are trying to coordinate). Respect the time it took your vendor to write you a response to your questions and concerns by actually digesting and reading what they said." – Leigh Pearce Weddings
"It is so important to have open lines of communication with all of your vendors, but especially your planner, and even more so if you have a full service planner. One big pet peeve is when clients don't communicate to me what they have told another vendor, and then I get an angry call from the other vendor when my schedule gets sent and it doesn't match what that particular vendor has. If you want to have an excellent vendor team that is going to work together and provide you with the best service, you need to keep everyone on the same page and communicate the same message." – Kelly of Just Save The Date
"Clarity of responsibilities- written bullet points up front will address potential issues. This will ensure that you and your vendors are on the same page and eliminate possible misunderstandings." – Angela of Rocking H Ranch
"Follow up with your vendors when you have agreed to. When a bride and I decide on a follow up date or time and I don't hear back from them for months I start to get worried! As a planner I am communicating with vendors on the bride's behalf but if the bride and I aren't communicating, things can come to a stand still. I know everyone gets busy but we do have certain deadlines to meet so a quick text or email to let me know when is a good time to follow up, discuss, meet, etc is much better than just not getting back to us at all. Plus, I like to know everything is okay!" – Kelly Hancock Events
———————————————————————-
 These are all such amazing tips… I hope y'all are armed and ready with plenty of insight to avoid the mistake of not communicating enough with your vendors!
I'd love to hear from you- what is your plan (or what have you been doing already) to ensure that you communicate with your wedding team? Do you have a preference for how you communicate with them? 

The following two tabs change content below.
Lauren Grove is the editor and owner of Every Last Detail. A clueless bride-turned-wedding planner, Lauren uses her experiences and knowledge to educate and inspire brides all over the world.