Hi again everyone! As I mentioned last week, I'm striving to get TWO posts out on Thursday now so I can answer all of the "Ask Lauren" questions! This question came to me from a college friend, and I thought it would be perfect based on a few things we discussed in the First Things First post on choosing your wedding venue…
—————————————————-
Hi Lauren! My fiancée's family and friends are traveling from out of town for our wedding. Many will be flying, and most are family. If our reception is at the hotel they are staying at, but the ceremony is 15 minutes away, what is the rule on providing transportation to/from the ceremony? My future mother-in-law has the most out of town guests and she's not concerned- she says they'll just figure it out! My dad though, feels people will be offended if we don't provide transportation. Any thoughts will be very helpful!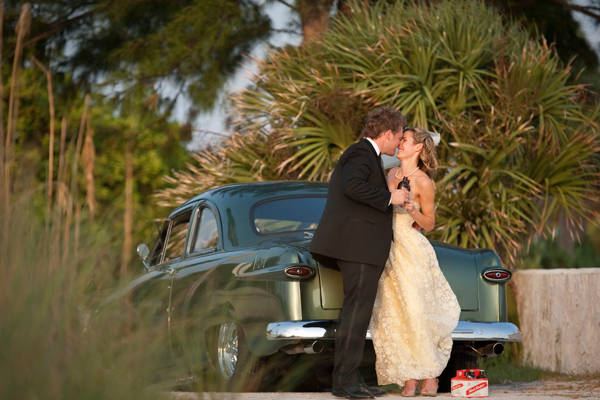 Photo by Stephanie A Smith Photography
Ah transportation can be a tricky thing! First, I would start off by seeing if the hotel has a shuttle of any kind available to you. Sometimes they do, and sometimes they don't- it kind of just depends on the hotel.
If you do have a large majority of guests who are from out of town, and they most likely won't be renting cars (aka transportation to/from the airport is easy to come by), the next thing I would suggest would be to rent a shuttle bus from a limo company for transporting your guests to and from the ceremony. I would suggest a 2 hour rental to accomodate multiple trips each way. Depending on how many guests you have, you will probably need to have the shuttle transport people in different trips. If you have to have different trips, you'll want to let guests know when the shuttle bus will be making it's "runs"- and possibly even "assign" a time to them. (The first trip would be a good amount of time before the ceremony starts, so this would be a good trip for family members to be on.) You can inform guests about the shuttle schedule and/or their assigned time via a welcome bag that they receive upon check-in to the hotel.
[Note: You definitely want to consider traffic too. If you're getting married on a day when there is a sporting event, concert- anything in the vicinity of your travel route- you may want to consider two shuttles or maybe a shuttle and a car service to accomodate for extra travel time!] 
My go-to option is always whatever is going to make things less complicated for guests. You want things to be well-communicated for guests so they're not bugging you or your family members, asking what they should do and causing people to stress out. And of course if you have a wedding planner to help you organize things, create a schedule, and guide people on the day of the wedding, that will be a HUGE help to you! :)
—————————————————-
Brides, are any of you in a similar situation with your transportation? What will you be doing to transport your out-of-town guests? 
The following two tabs change content below.
Lauren Grove is the editor and owner of Every Last Detail. A clueless bride-turned-wedding planner, Lauren uses her experiences and knowledge to educate and inspire brides all over the world.