Drawing inspiration from a vintage style and natural elements, Bryanna and Kevin's spring wedding in Jacksonville, Florida was fresh, airy, and absolutely gorgeous! Featuring loose, flowing florals, a garden ceremony, and eclectic details, j.woodbery photography captured everything to perfection. Lucky for us, Bryanna is here with us today sharing her insights about planning her wedding, so keep an eye out for her advice!
What (or who) helped you most in your planning process and/or on your wedding day?
I couldn't thank my friends and family enough for helping me throughout the planning process. I was always asking for their opinion and I'm sure getting on their nerves sometimes but they were always very patient with me. I also was lucky with the planning because I work for a florist so I was pretty aware of all the steps I had to take to get the wedding together.
What was the most important thing to you when deciding who to work with for your wedding?
Deciding which vendors to use is so important! I was fortunate to know a lot of my vendors so I knew they would take care of me! The most important thing is knowing if things get crazy they have you covered and have your back, so that you don't have to worry.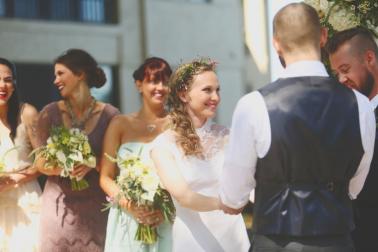 What was your inspiration for your wedding details and/or design?
I get inspiration from working weddings and loving weddings. I am a big fan of the Amy Osaba style, the very wild and loose look. I've always been a more earthy and natural kind of person and I wanted my wedding to convey that. The planning process was great because I had a year and 3 months to plan.. I had time to change my mind but in the end the vision I had came through and it was perfect.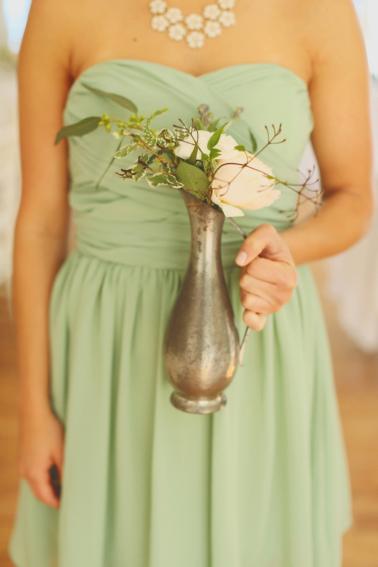 What was your favorite thing about your wedding?
It's hard to narrow down my favorite thing about our wedding, but top 3 I would say exchanging our vows by the river at our first look. It was such a sweet moment. Secondly, our music. We worked really hard on the music to make sure it properly conveyed who we are and made sense for when it was being played. Lastly, choosing to only have my closest friends and loved ones there rather than people I've met maybe once. I wasn't stressed out about talking to random people or people I didn't really care to see. It was a small guest list but I wouldn't have wanted it any other way.
What is your best piece of advice for other brides?
The advice I would give to brides now would be to follow your vision. The idea of what you want may change throughout your planning, but once you find something you like don't complicate it by looking around more. Trust your family and your friends because they will make your day so special… Even when things aren't going as planned they are good at not letting you know it. And just enjoy the day and enjoy the planning!
Oh I love Bryanna's advice to stop looking around once you've established your wedding vision! And how awesome is her reception dress?! Such a great idea to go for something outside of the normal white dress, don't you think?
Bryanna was inspired by nature for her wedding design- what are you drawing your wedding inspiration from? Colors, a pattern, style… it can be anything really! Share in the comments- we'd love to hear!
Vendors who made it all happen…
The following two tabs change content below.
Lauren Grove is the editor and owner of Every Last Detail. A clueless bride-turned-wedding planner, Lauren uses her experiences and knowledge to educate and inspire brides all over the world.